Breaking news: Sailor Moon eyeliner, gashapon, apparel, and more! I'm pressed for time today, but here's some breaking news from the August 2013 issue of Nakayoshi magazine, which goes on sale in Japan today: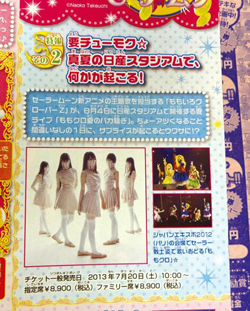 courtesy of fyeahmomoclo

Momoiro Clover Z, the JPOP idol group who is confirmed to be performing the new Sailor Moon anime theme song, will be having a concert August 4th in which they will be making an announcement regarding the new Sailor Moon anime series. The flyer recaps Momoclo's performance in Paris during the 20th anniversary Niconico Douga live stream event in which the new Sailor Moon anime was announced, and gives ticket information and concert schedule for Momoiro Clover Z's upcoming tour.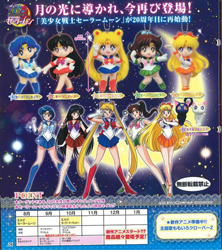 courtesy of SM Obsession

This flyer confirms a few cool things. First, new merchandise. We will be receiving:

new Sailor Moon apparel
new Sailor Moon eyeliner
new Sailor Moon gashapon
new DVD box set

Plus, it says that the new merchandise is aimed towards young women in the 20s. Which we kind of already knew, but hey, an official confirmation is nice.

There's also some information about when the new anime series will premiere. It says that the series is officially in production, and will be scheduled to begin sometime between this November and January of 2014.

Sounds pretty cool! My copy of Nakayoshi magazine for this announcement is here, so I'll be making a more detailed post about this tonight. There's some information about the release dates for the new Sailor Moon 20th anniversary figurines, as well as release dates for some of the previously announced new Sailor Moon merchandise like the Shining Moon Powder compact, the Nail Collection, the smart phone cases, etc. Nothing too revolutionary, everything that is new I've listed above.

I'm especially eager to see the new Sailor Moon eyeliner and new Sailor Moon apparel that is referenced in the release schedule, but the gashapon are super adorable as well. I bet collectors are going to go nuts over that! :)

Update: We were linked at ANN here as well as Crunchyroll here, thank you for this honor!