A big update was made today on Sailor Moon Channel, featuring lots of new Sailor Moon 2013 merchandise! Let's jump right in with the details: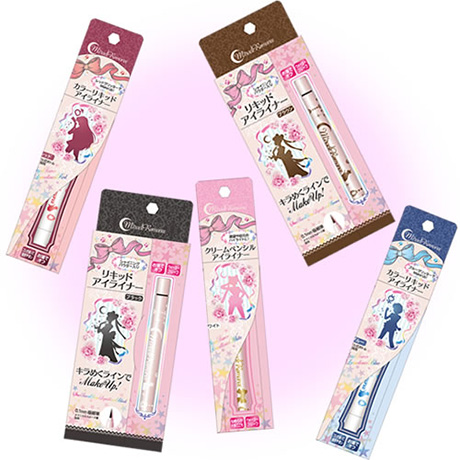 First up is a new line of Sailor Moon Miracle Romance eyeliners, made by Premium Bandai's "Creer Beaute" line. These Sailor Moon 2013 Merchandise items are series three in the line of Creer Beaute's Sailor Moon Miracle Romance set. They will be available for sale beginning September 26th, and will be available in five colors: black, brown, blue, white, and red. All colors except black and blue will feature shimmer glitter in the eyeliner itself. These are set to be on sale in Japan, Hong Kong, Taiwan, and Singapore simultaneously – so it looks like the line of Sailor Moon cosmetics is gaining international attention, and is at least spreading throughout Asia quickly! From left to right, the first four eyeliners are retailing for 1260 yen (~$13 USD) and the last one which is the white highlighter is retailing for 945 yen (~$10 USD) – so these are to date the least expensive of the Miracle Romance cosmetics set!
Next up are these adorable plastic cups! They are being sold by a company called Hasepro, and are currently scheduled to go on sale in late September. There will be three designs – one featuring Sailor Moon and the outer soldiers, one featuring the inner soldiers with Luna and Artemis, and another with a pattern of Sailor Moon's items. Similar "melanine" cups are retailing on the popular site amiami.com for around ~680 yen (roughly $7 USD) so these will likely also be pretty cheap. Stay tuned!
Perfect for any smart phone owner are these adorable "character pin" charms! They attach to the bottom of your cell phone or .mp3 player for a cute decoration. They will be released in two designs: Luna and Usagi's Transformation Brooch. They will be manufactured by Gourmandise, Inc.,  and are scheduled to go on sale in early October!
Last up are these two sticker sheets! There are two design sets available – on featuring Sailor Moon and the inner soldiers with their planetary symbols, and the other featuring Princess Serenity, Chibimoon, and the outer sailor soldiers. They will be manufactured by Gourmandise, Inc.,  and are scheduled to go on sale in late September!
Looks like the folks running Sailor Moon Channel have been very busy updating with pictures of the upcoming Sailor Moon 2013 Merchandise, but there's very little information about final release dates, if these items will be on sale in stores, etc. Right now it looks like the only items you can definitely pre-order are the S.H. Figurarts Items and the Premium Bandai Creer Beaute items, and even then you have to live in Japan to get those items.
Some specialty retailers like JLIST.com have been beginning to carry the Sailor Moon 2013 Merchandise, but the markup on the items is very high and international shipping is expensive. There are no final "for sale" dates for anything yet, which is frustrating. Stay tuned Moonies! Hopefully we'll have more information for you soon. :)