Happy Sunday/Monday, Miss Dreamers! After an early morning of Murphy's Law being in full affect, we are proud to announce our completed fansub of the Sailor Moon 20th Anniversary Nico Farre Event #2.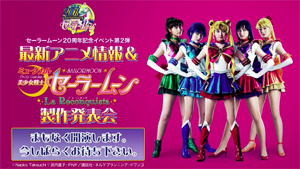 direct download | torrent
The event took place at 5 PM JPN on Sunday, August 4th (4 AM Eastern Standard Time). The event starts off with a small history of Bishoujo Senshi Sailor Moon over the last 20 years. Osano Fumio (Osabu), treats us to a message from Naoko Takeuchi, and the event quickly moves into announcing the cast of the new musical, Bishoujo Senshi Sailor Moon ~La Reconquista~.
Appearing live at the Sailor Moon 20th Anniversary Nico Farre Event #2 are the actresses for Sailor Moon, Sailor Mars, and Sailor Venus: Okubo Satomi, Nanaki Kanon, and Sakata Shiori respectively, as well as the actresses who will be playing the Shitennou. There is also a video message from the Takarazuka veteran, Yuga Yamato, who will be playing Tuxedo Mask.
Momoiro clover Z cut in live from their concert in Yokohama which was happening simultaneously, to treat everyone to their performance of Moonlight Densetsu. We also are treated to appearances with the producer, Kataoka Yoshirou, and the composer, Hiramitsu Takuya; both of whom, coincidentally, worked on Hunter x Hunter, a manga series by Naoko's husband, Togashi Yoshihiro.
What did we learn from the Sailor Moon 20th Anniversary Nico Farre Event #2?
1) New anime will be available for worldwide simulcast via NicoNico Douga. Other stations may be announced in the future, but this is the primary format in which the new series will be released. No word yet on whether it'll be subtitled for international users or if any dubs will be produced.
2) In the upcoming October issue of Nakayoshi magazine, there will be information about the brand new "Kanzenban" or complete edition of the Sailor Moon manga.
So that's it. Please enjoy! Thank you to those who stayed up with us to watch live!