Happy Miss Dream Monday everyone! Today is a special release, a we put together a wonder Sailor Moon La Reconquista bulk pack for everyone's enjoyment!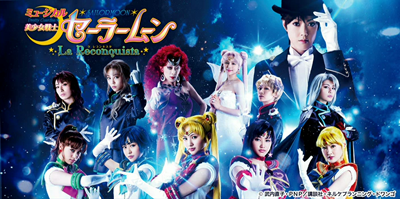 For this release, James went crazy and retimed and subtitled two more of the performances! This Sailor Moon La Reconquista bulk pack not only has our original release, but two additional performances. In this pack, added in are the September 22nd run, as well as the final performance! There are additional pieces of content after these performances. The September 22nd show has a talk show with Yamato Yuuga (Chiba Mamoru / Tuxedo Mask ), Osano "Osabu" Fumio (Kodansha editor who worked directly with Naoko Takeuchi), and Yoshio Kataoka (Sailor Moon La Reconquista procucer). This is a fun watch, just as the other promotional materials have been. The Sailor Moon La Reconquista final performance has heartfelt goodbyes and comments from all of the actresses, giving their thanks and sharing memories of their time together.
This Sailor Moon La Reconquista bulk pack also includes our unofficial soundtrack of the performance. While yes, this is once again obtained from the performance, the quality of these tracks is superior to that of our original compilation. These are also obtained from the final performance, so you might even notice some other differences! To cap off the Sailor Moon La Reconquista bulk pack is a wonderful Sailor Moon La Reconquista pamphlet compilation. Staff member Serenity842003 put together a wonderful PDF containing high quality scans by Wild Mushroomland, inserting separate pages of our translation into the mix. It came out really well, and makes this program much more portable and enjoyable for all.
While on the topic of the Sailor Moon La Reconquista pamphlet, we are offering a high quality raw, courtesy again of Wild Mushroomland. This kicks off a new portal page in our raws section, focused on Seramyu Pamphlets! While it is only this one to start, scans for more are on the way!
Today we also announce a new addition to our affiliates section, Ai-no-Senshi.net! It is a wonderful fansite that we're sure y'all will enjoy as much as we do! =)
And that's all for this week! Over the next few weeks, we have more raws planned to process and post, and other projects might come to life as well. We'll see what comes to light. However one thing I know for sure is that late this week, Miss Dream Garage Sale 3 begins! We will have a lot of Nakayoshi for sale, unbound and bound, as well as many more publication! We took inventory over the weekend, and should have this page up and ready this weekend. Look forward to it! Please enjoy the Sailor Moon La Reconquista bulk pack and the high quality raws, and we will see you next time! =D