Hey, Dreamers!
It's been a while, but we got more doujins from wolf1806, that we cannot resist to share. And it starts with the Boo Works series!
Also, some news while we're away. So, onto this week's update!
This week's doujin uploads
Sailor Moon's Autumn Musical Has A Name, and Timeline!
As many of you are aware, this Autumn's Sera Myu got a name and timeline for when it will start performing. This happened during the cast's time in the USA, at Anime Matsuri in Houston, TX.
After the cast did a mini-performance of an original story, which was about saving Houston, they announced La Mouvement Final (French for "The Final Movement"), as the title, and September, as the approximate timeline for when they begin, as confirmed by Tuxedo Mask actress, Yuuga Yamato, and the other person who came to Anime Matsuri, Fumio Osano, who also held his own Sailor Moon panel there. There was also talk of an USA run of the Sera Myu, but Osano informed the fans to show support for the musical, and maybe they'll do it!
We, for one, have full support, Osano-san! ♥
For more info, and updates on this year's musical, and/or you want to watch the Anime Matsuri performance, head over to our La Mouvement Final page.
Silver Millennium Masquerade Ball
The ball was a huge success, and glad everyone had a great time. The cosplay you guys wore were awesome! So awesome, that an article on Fashionably Geek showed the amazing work. Go check the article here.
Evgenia Medvedeva does a Sailor Moon routine again…but better!
As many of you know, the multi-time world champion Russian figure skater, Evgenia Medvedeva, is a big Sailor Moon fan, as we covered before. Just recently, she brought back her Sailor Moon routine for the Japanese crowd, in the competition's stop…and cranked it up to 11, adding soundbytes from the first episode of the classic anime. You can check out the full routine in the video below.

Sailor Moon Crystal tabletop games are coming to North America!
A Canadian board game company, Dyskami Publishing, is making board games for Sailor Moon fans of North America!
The first in the line is called Sailor Moon Crystal Dice Challenge!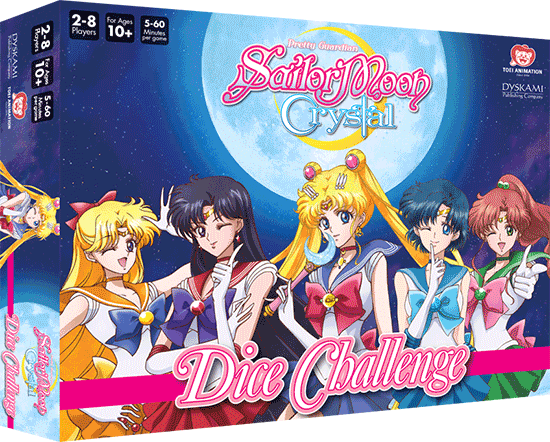 2-6 Players (10+) • 5-60 minutes • MSRP $29.99 USD
The Pretty Guardians and their allies need your help to defeat the Dark Kingdom and the Black Moon! Square off in one-on-one dice battles or team up for larger action!
This game is based on another upcoming tabletop game, Button Men, which it's designer, James Ernest, is also co-designing the Sailor Moon game. Here's a video on how this kind of game works.

Button Men is on Kickstarter, as of this posting. So, if you want to help that game out, go to this link and donate.
More details on this upcoming board game release? Click here to see it.
This tabletop game will be released Late Summer 2017!
Also, click here to see the official press release of Dyskami's announcement.
Closing
We hope you enjoyed these uploads, and hope you'll stay tuned for next week's update.♥ By the way, we do ask that you all donate, not only to keep the server running, but to maybe give Miss Dream a good year! Also, we have expanded our hire us page to a whole separate entity, Fandom Services, so be sure to check that out as well! See you next time!