Please enjoy our English translation of the Sailor Moon Petite Etrangere pamphlet! At the end can also be found translations of two flyers handed out at the entrance to the theatre (scanned by Mizuno Caitlin of Wild Mushroomland). Layout by Galadan. Editing by Nikki.
PDF: download
Now that the Dark Kingdom has come to a close, so begins our journey into the Black Moon arc…
The story begins with Chibiusa travelling into the past to help Sailor Moon and find the eternal power of the "Phantom Silver Crystal" as she promised to do.
Using the power of the "Dark Crystal" and fueled by hatred, the members of the Black Moon are on a hunt for Chibiusa and the "Phantom Silver Crystal".
In the present and future, the two Phantom Silver Crystals allow the guardians to travel across time, and into another world.
Joining us from the future is Chibiusa, the lonely soldier who is the keeper of time, Sailor Pluto, and the Black Moon.
Who is this new stranger, Black Lady? Meeting new friends, and other important people, then parting ways…
In the present, with the goal of protecting the Earth, the sailor guardians begin a new battle to defend the world with all their might!!
Sailor Moon / Usagi Tsukino: Satomi Ookubo
The soldier of love and justice, she is the guardian of the Moon. She's a strong guardian, but she's kind of a clumsy girl. She is also the Moon Princess. What could her connection to Chibiusa and Mamoru be…?
Sailor Mercury / Ami Mizuno: Momoko Koyama
The soldier of water and wisdom, she is the guardian of the planet Mercury. She is a genius girl with an IQ of over 300.
Sailor Mars / Rei Hino: Kanon Nanaki
The soldier of fire and passion, she is the guardian of the planet Mars. She is a cool beauty with an icy demeanor.
Sailor Jupiter / Makoto Kino: Yuu Takahashi
The soldier of lightning, she is the guardian of the planet Jupiter. She's really strong and good in fights, but she's also a soft and kind girl who loves cooking.
Sailor Venus / Minako Aino: Shiori Sakata
The soldier of love and beauty, she is the guardian of the planet Venus. She is the leader of all the guardians. She's always falling in love, that's why she's the "guardian of love".
Sailor Pluto: Mikako Ishii
A lonely guardian of time. She guards the time door. She has an unrequited love for King Endymion.
Tuxedo Mask / Mamoru Chiba: Yuuga Yamato
Usagi's kind lover who is always watching over her. Is very affectionate with Chibiusa. 900 years in the future, he becomes King Endymion.
Visitors from the future
Sailor Chibimoon / Chibiusa: Kokoro Kuge and Airi Kanda (double cast)
This visitor from the future is a princess. She came back to the past to see Usagi.
Black Moon Clan:
Prince Demande: Erika Mahiro
He is the leader of the Black Moon. He has an unrequited love for Serenity.
Saphir: Sora Manami
Demande's younger brother, who always follows along with his older brother's plots.
Rubeus: Riona Tatemichi
The commanding general, he has sworn his loyalty to Prince Demande.
Esmeraude: Mitsumi Hiromura
The only woman in the family, she controls the Droids.
Black Lady: Yui Ito
Chibiusa transforms into this form after being corrupted by Wiseman. Her lonely heart leads her into darkness.
Droids: Kumiko Saitou, Moka Kodama, Eriko Aoyama, Ayaka Ida, Yuka Ito, Akino Konno, Ayumi Nakaoka


A Roundtable discussion with Producer/Director Takuya Hiramitsu, the cast playing the five sailor guardians, and the manager of the series creator, Fumio Osano (Kodansha Publishing). When the new musicals came back last year, they said it was "a new life for Sera Myu", so we wanted to ask them this time what that means to them for this next in the series of performances.
Fumio Osano: Before we talked about any plans for this year's musical, "Petite Etrangere", back when we developed last year's "La Reconquista", I don't think we really had any concrete plans about the new life this musical series would take on. All of our cast members were new, but all of our old fans had come back – to be honest, I was really worried back then about how it would all turn out. But back during the first event where the five guardians appeared to the fans and the public for the first time, I had a feeling that somehow it would turn out all right. When I was out there looking at our five guardians, I felt like they were really cool too. Now that we've gotten this far, and we're beginning a new performance, I wonder how everyone else feels about this new adventure we're on?
Takuya Hiramitsu: I think the first time I heard about this concept was roughly five years ago, when I met with the creator and we discussed how the anime series turned out, and how she wanted to make something original for that. When we decided last year to go ahead with this, there were three things that had to be done according to the "creator's wish". I think we ended up striking a good balance, and our cast has done a phenomenal job. What we discovered is that the enthusiasm behind Sailor Moon hadn't faded a bit. It's something like a remake, but it's also new in some places while capturing all the parts of Sailor Moon that are truly nostalgic to us all; I think we've done a good job of capturing the energy that comes with Sailor Moon.
Satomi Ookubo: For me, when I was first doing this role I was so nervous, I found myself clamming up and going silent… but when I went back and watched the DVD of the first performance, looking back I think I did better than I felt. When I watched some of the singing and dancing scenes, I thought to myself, "Really? Was I really feeling that way while performing that well?" it was a shock. *laughs* I think this time around I'm more confident.
Kanon Nanaki: Since it was my first musical, I spent a lot of time on set trying to learn everything, was in there every day working so hard, it was all I thought about. But I looked around me and saw the others having fun. Back then, I felt like I was always on the verge of tears. *laughs*
Yuu Takahashi: Since I used to want to be Sailor Moon when I was really young, when I got the part I thought to myself, "Seriously? Am I going to be okay to do this?" But I think I'm like the character Makoto in a lot of ways, to the point where I just thought myself into "being a more confident person" and I think that's also helped me develop in my role as a guardian, and I think that allowed me to perform better.
Shiori Sakata: I think all of it started to feel real to me when the four of us guardians sang toi Usagi, "We'll protect you".
Takahashi: Yeah, I felt the same way when we sang that to Usagi.
Sakata: I wanted to be Sailor Moon when I was little too. When I got the role last year, I kept hearing over and over again from all the women I talked to, "Ohhh, how lucky!", so I think all women still really love Sailor Moon the same way they did when they were kids. As soon as we finished with our last performance, I knew I wanted to be able to play Minako again. So I'm really glad to be back doing it all over again this year.
Momoko Koyama: This year is my first time being part of the performances. But when I was a little kid, I first found Sailor Moon through the anime, and the musicals didn't come until later because I lived in Hokkaido where there weren't any performances. I did get to catch the last performance of the original run of musicals back in 2005, though, on a trip to Tokyo with my mother. And being there was like powering up! I knew I wanted to be part of that stage someday! I felt really strongly about it, and decided that I would become an actress. *laughs* Auditioning for this role was a lot of fun, but I never seriously believed I would get the role when they called me back.
Sakata: I felt the same way… *cries*
Takahashi: I felt the same way… I didn't think I'd be strong enough.
Osano: When I first came to see the auditons, it felt like they were over in a flash, but I could feel like every girl there really loved Sailor Moon.
Ookubo: As soon as I met my colleagues for the first time in the musicals, I felt more at ease I think. I felt better with everyone around me smiling. *laughs*
Hiramitsu: Just seeing you guys give it your all makes me wanna cry. *laughs* In any case, it wasn't just about loving the characters, the point was to give a good performance too. Our fans love Sailor Moon as much as our performers, and I think that's what led to our success.
Osano: With some new cast members, this year's new production "Petite Etrangere" has begun. When people came to watch the last show from all over Japan I new we had succeeded… actually, forgive me, that's kind of untrue, *laughs*, I really knew from the cast and the guardians that they had done excelent. When did you guys know that we had made it to success?
Hiramitsu: Since my number one enemy is "dissatisfaction", I think I was really happy to watch the audience enjoy all the scenes without any complaints. Everything turned out real well, the scenes were exciting, and at that moment I think I became conscious that maybe this year we would be able to do it all again. It was a tough thing to accomplish but I am glad that we did it. I think this year it'll be alright, because now I have more confidence going into things.
Ookubo: I really got the impression that with the way Usagi and Chibiusa fight, they're like a pair of sisters. But when I thought about what I would do in that situation, caring both about Mamoru and Chibiusa, that really helped me fill the role. I think this year I'm finishing out stronger than last year, so I feel confident in our success.
Koyama: Because I love Sailor Moon so much, I always keep the image of Ami around in my head to help me out. I focus less on how others in the past have played the role of Ami, and I think that's allowed me to portray the role the best.
Nanaki: When I first read the script for this year's musical I thought I would have to work harder to portray Rei correctly. So I've been working really hard to give Rei my all, and I think this musical gave me an opportunity to show another side of her character.
Hiramitsu: I think every character has a scene where they are highlighted. That's something we intended when we were writing the script.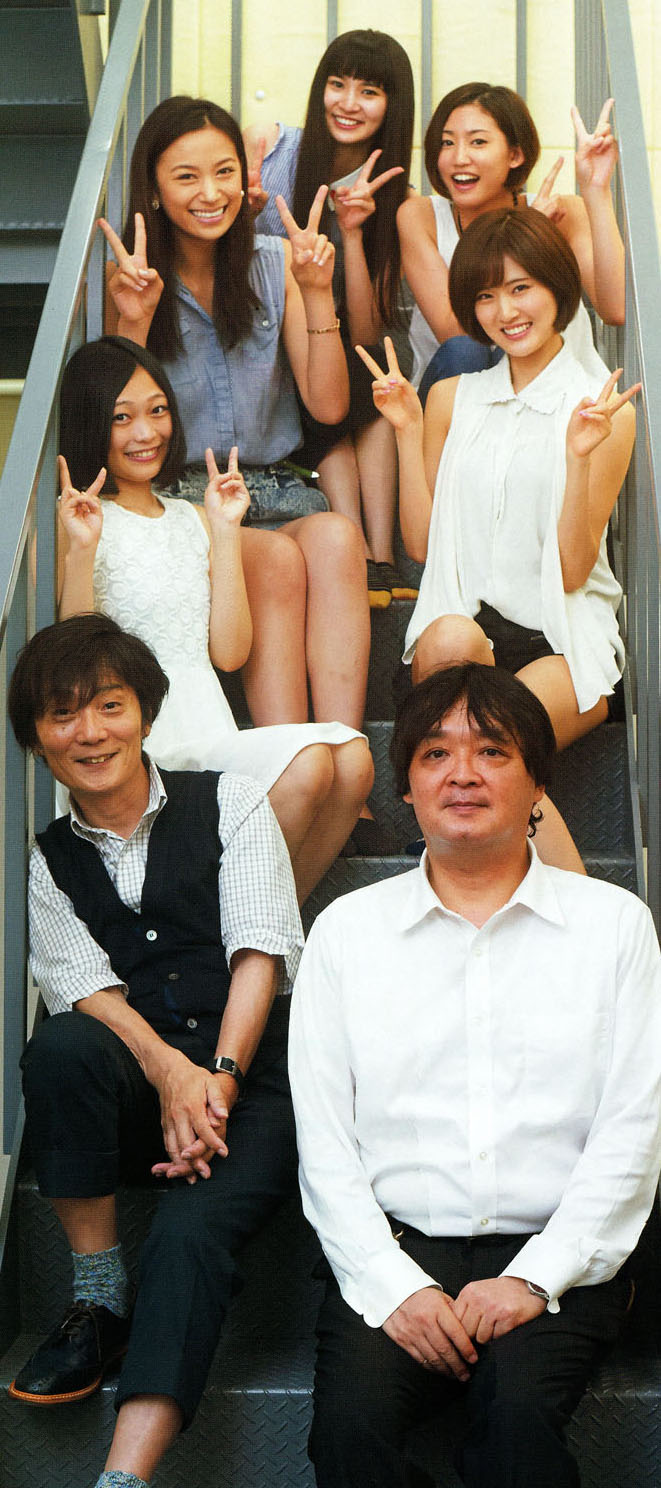 Takahashi: I think you wrote a lovely scene for Makoto.
Ookubo: Ohh, yeah, seriously! It really was wonderful, just awesome. *laughs*
Takahashi: There were a lot of great scenes with Mamoru last year, but I think this year that role stands out even more in the performance too.
Hiramitsu: Yes, I agree with that, but that character isn't meant to be a stand out. Last year when we came up with this concept, we wanted to keep the characters and the casting as female-focused as possible. We've allowed for some ad-libbing to make it all smoother. We wanted our cast to have the opportunity to shine.
Sakata: I think one of the more important scenes is where the different characters stand up to defend what is important to them. I think that'll have a big impact on the fans too. I think everyone is going to love seeing how Momo (Koyama) does this tome around, too, she has done an amazing job.
Osano: One of the most popular episodes of the anime was from the "Black Moon Arc" of the series. So when we adapted that for this performance, we knew it would be significant to the fans. But we had to be careful about how we got our message across to the fans. So how do you think we all managed on that?
Ookubo: This time, I think the main thing was for me to portray the love of parents. This work is so full of love, though, that I think I got lucky with portraying this aspect of it!
Koyama: I think this series is overflowing with love, too. The love between friends, between lovers, between family, the love that I feel for Sailor Moon, the love our audience feels too… there's so much love it this work, I think, in every angle.
Nanaki: I wanted to portray Rei's friendship with her friends properly. So when Mr. Hiramitsu said to me, "The audience won't get that", or "You have to do it more like this", I started to understand how important this all is to everyone involved. For instance, in the scenes where Rei stands out, I have to almost think like Rei does to act as her properly. I've been working hard at that.
Takahashi: Makoto is always protecting everyone, and I think I've become like that too. I'm going to protect everyone. And I think doing that has made me a stronger person.
Sakata: There's a lot of scenes this time where Minako is a leader, and I've struggled to feel that within myself during the performances, but it's shown me a lot about myself and how I'm stronger than I thought. I'm really excited to be performing in Osaka this time, that'll be a new challenge and a new opportunity for growth. I hope everone will enjoy.
Hiramitsu: My theme for Sailor Moon this time around is "How the Power of Love Connects", I think. All of these girls are empowered by love, and they grow so much as much as they help each other grow. That was what I was thinking of when I wrote the script, and I think these girls all did a fantastic job of getting that message across – maybe they understood it even better than me. *laughs*
Sakata: Maybe it's just like the song Sailor Moon sings, "I'm going to love too!" *laughs*
Ookubo: I want to love too! Especially with someone as dreamy as Yuuga Yamato *laughs*
Osano: I hope the audience will enjoy this beloved performance too.
Ookubo, Koyama, Nanaki, Takahashi, Sakata: Yeah!

Back on July 5th, the sailor guardians and Tuxedo Mask went to France to perform at "Japan Expo 2014", which was the 15th anniversary of the convention. Here are some of their remarks about the event, along with coverage from Mr. Hiramitsu.
Hiramitsu: There were so many people, weren't there?
Sakata: I heard that there were like 2000 people. Most were French.
Takahashi: Being up on stage in front of them all made me nervous. So many people came to see us.
Koyama: I saw guys wearing Sailor Moon t-shirts.
Ookubo: It was the first time I said "bonjour" or "merci" to anyone! *laughs* It was a wonderful experience.
Nanaki: I had to work hard to give my self introduction.
Sakata: "Just" your self introduction? *laughs*
Nanaki: Oh, not just that. *laughs* I mean talking about myself as Rei, it was a lot of work!!
Sakata: I'm pretty sure I introduced myself as "Makoto Aino", too. *laughs*
Ookubo: I was so grateful so many fans came to see us. There were a few who spoke Japanese.
Koyama: People were singing along to the songs in Japanese too.
Takahashi: I can't speak French or English, but I was shocked at how many people I could speak Japanese with.
Hiramitsu: Everybody's been studying, I guess. Maybe that'll change in Japan too?
Ookubo: I couldn't say a thing but "woo!" when I got a reaction from the crowd.
Takahashi: I felt like there must have been Japanese fans there too, there was such a huge crowd reaction.
Sakata: When Tuxedo Mask appeared, the crowd freaked out. Ms Yamato is super popular!
Takahashi: I couldn't believe how many girls in the audience were in love wih her, could you?
Hiramitsu: Well, she does play a very attractive man. But I think people felt lucky that she came to France.
Koyama: Yeah. I was really glad when she showed up, people went wild.
Hiramitsu: Was this your first time to France?
Five Girls: Yes.
Ookubo: It was scary going abroad without knowing the language… but it was fun. *laughs* But the hotel we stayed in for the expo was amazing, and Paris was so wonderful, I want to go back again! I took so many pictures to capture all the memories. *laughs*
Takahashi: I went to see the Seine river, and the Eiffel tower too! *laughs*
Sakata: I bought so many gifts before I left… *laughs*
Nanaki: And the food was so delicious! I ate so much French bread! *laughs*
Koyama: I don't think I ate much else than French bread. *laughs*
Nanaki: I drank lots of cola and juices too. *laughs* I tried ordering in English, though. *laughs*
Hiramitsu: Going abroad with this story was like a dream come true, I should really study more English. I think we should definitely bring more Japanese performances to the Expo next time! I've got to put myself under pressure to make that happen!
Ookubo, Koyama, Nanaki, Taahashi, Sakata: Definitely!
sassypants678's note:
The second half of the page is just a timeline of all the different events related to the musical project since it was announced in 2012. I'd prefer not to translate all of this since it's super redundant; but every single event listed here can be found in English on Miss Dream if you check out our La Reconquista and Petite Etrangere pages. :)