This is a translation of an interview with the five Sailor Soldiers' voice actresses in Comic Natalie October 2014. Translation by Alita, a huge fan of Sailor Moon and Morning Musume. Layout by Galadan.
The Five Soldiers Together at Last!
After a 17-year hiatus, the globally popular "Bishoujo Senshi Sailor Moon" has returned as "Bishoujo Senshi Sailor Moon Crystal" and is now being streamed on Nico Nico Douga, etc. The first Blu-ray of the series is now being sold in a glamorous limited edition box. Along with a gorgeous package, the limited edition comes with a music box inside it as well as a charm-bracelet and charms specially produced by Bandai.
Comic Natalie decided to celebrate the release by inviting the five soldiers' voice actresses (Kotono Mitsuishi, Hisako Kanemoto, Rina Satou, Ami Koshimi and Shizuka Itou) to a post-recording round-table chat. This is the first time the five have come together to talk about things regarding the show in public. We asked Mitsuishi, who played Usagi in the previous Sailor Moon series, as well as the four newly-cast members how they felt as they got ready for their roles.
Coverage by: Megumi Kishino Photos: Shigeo Kosaka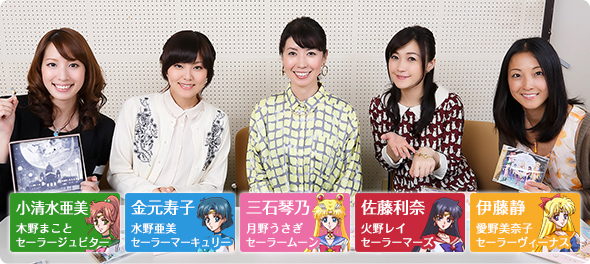 | | | | | |
| --- | --- | --- | --- | --- |
| Ami Koshimi | Hisako Kanemoto | Kotono Mitsuishi | Rina Satou | Shizuka Itou |
| Makoto Kino | Ami Mizuno | Usagi Tsukino | Rei Hino | Minako Aino |
| Sailor Jupiter | Sailor Mercury | Sailor Moon | Sailor Mars | Sailor Venus |