Good evening Miss Dreamers! It feels like it's been a long time since the last update, but I'm looking to rectify this!
First, an explination in regards to the sudden halt. While it's no secret that we prep everything we post ahead of time, with the exception of any news and information that comes from Japan, a wall has been hit in one very important aspect of these postings: the galleries. A little over a year ago not long after we moved the site to the then-newly build Deimos, we started to really amp up what we made available in galleries. Previously, only our scanlations were viewable in gallery pages with all raws and other materials available in a download only basis. The plugin that we used, NextGEN Gallery, was working well, so sassypants678 went hardcore into making everything that we had online available in a gallery format for ease of use and options for all. Over time, it started to become apparent that this plugin was having issues with the giant galleries created, where a few months ago, importing images became nearly impossible. A massive update was made for the plugin in early August, with many more options and many improvements. However, the resource management when upgrading was actually worse, making galleries barely loadable. I rolled back, to at least have galleries viewable even though we couldn't create any more. A number of fixes were made, some testing was done, on a development site here, and I decided to risk re-doing everything with a fresh copy of the gallery plugin due to the success I had. I took them all down to put in the work to bring everything back up and work better. Sadly, the scope of them was still too much, bringing other errors that hadn't been there before, and keeping us at a halt for new content. I've been in discussions with the developers for the past couple of weeks since I had purchased Pro support, however the issues that break the site still remain unresolved. We have decided to forego the continued usage of this plugin as we can no longer wait for it to potentially be fixed for bigger sites such as this one. As of this typing, we are still working on a viable solution. I do not know when this will be, I can only say right now it has been my top priority, however I need a break and to get some stuff online today.
Before we get to new content, I would like to formally welcome CyborgArmGun to our staff! She has been a big help in doing a lot of grunt work for us over the past couple of weeks, making it possible for us to spend our time elsewhere. She has also provided more materials for our raws section (our twitter followers got a hint about what one book will be coming soon…)!! We are happy to have CyborgArmGun on board!
As y'all are aware, this past weekend was the opening weekend for the new musical, Sailor Moon: La Reconquista! Today, we add a fansub for another God of Backstage show segment containing a La Reconquista cast interview!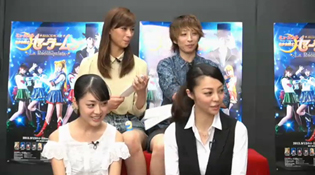 direct download | torrent
In this La Reconquista cast interview, the actresses for Sailor Mercury, Sailor Jupiter, Nephrite, and Zoicite, are all on the show. They talk about working on the stage, females playing male roles, and much more! Please enjoy this fansub to get ready for the new musical!
| | |
| --- | --- |
| We are also adding two items to our raws section. The first of which was actually added steathily to the site when some pages were getting redone, in the form of the Nakaoyshi Sailor Moon S Memorial Album artbook! As with the others, this has many high-quality images, now available in high-quality in a digital format for your enjoyment! | Nakayoshi Sailor Moon S Movie Memorial Album |
| Nakayoshi August 2013 | Another addition has been a staple this year. Since it is my first update of the month, the Nakayoshi magazine dated last month is due to go online! The Nakayoshi August 2013 issue is available for your downloading pleasure! Nakayoshi magazine is a famous publication in Japan which has featured shoujo manga for many decades. Sailor Moon is one of many franchises that was featured in this magazine. News relating to any franchises serialized in Nakayoshi is usually posted within the magazine as well. You may remember that this issue contained a lot of news when released. You can now get high quality scans of these pages, Doki Doki! Precure, and much more! |
Last month, a new site was opened in Shojo Power, which is focused on providing a feminist analysis of Sailor Moon and more. Anne, the owner of the site, has written some great articles in analyzing these different aspects over the various mediums of the franchise, and definitely worth reading! She had approached sassypants678 to write a guest artice, posted last week, this one tackling the topic of menstrutation in Sailor Moon. Today, we are adding this article to our editorial section here. It is quite the read, which we hope you enjoy! Please visit Shojo Power, and enjoy many more articles Anne has put together!
This is all that we have for today! Due to the ongoing gallery issues, at this point in time I do not know when regular postings will resume. We will continue to post anything going on in Japan, as I type this sassypants678 is hard at work translating the pamphlet for Sailor Moon: La Reconquista! This should be ready sometime in the next week, please keep an eye out for it! The Nico streams of the musical start this weekend as well. We appear to have found a methos to record this ourselves, however we would love any assistance that anyone can give in providing us with the raw from the stream, so we can get this online for y'all's viewing pleasure as soon as possible before the DVD is released. Yes, we will update our download to the DVD version whenever this is available. I am sorry that the galleries are currently unavailable, but I hope you enjoy everything else that we have for you such as the La Reconquista cast interview! See you next time!