Hello, Dreamers!
We got some new news coming from the upcoming Sailor Moon on Ice event, which we first reported last June, at Usagi's Birthday Event.
First and foremost, the name of the show is revealed to be Sailor Moon: Prism On Ice! Here's the flyer for the ice skating event!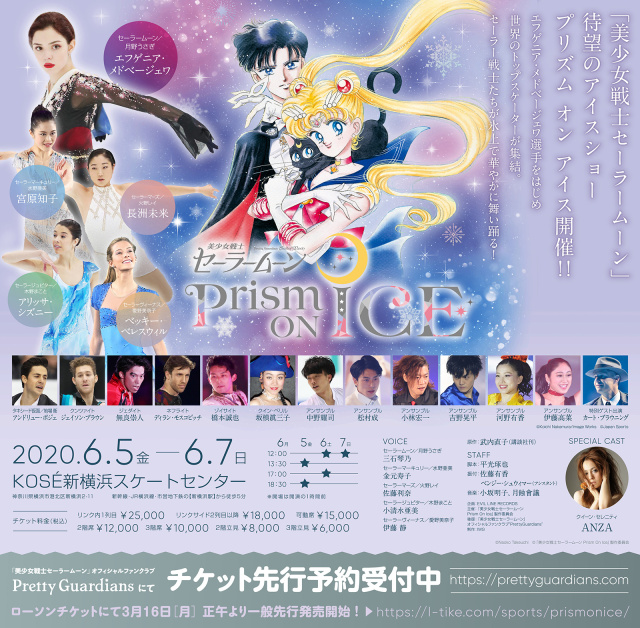 As you know, Evgenia Medvedeva is headlining the ice show, starring as the title role, Usagi Tsukino/Sailor Moon. She'll be joined by an all-star lineup of professional ice skaters from Japan, Canada, and yes...the USA! Here's the cast:
Ensemble Cast:
Youji Nakano
Jo Matsumura
Hirokazu Kobayashi
Kohei Yoshino
Yuka Kono
Takana Ito
Also, to mark the announcement, Medvedeva  showed us what Sailor Moon will look like on the ice show:
Medvedeva was also interviewed, talking about the show (NOTE: She does speak English during her interview). You can watch it here:
Sailor Moon musical script-writer, Takuya Hiramitsu, will be back to script this, while music will be done by Sailor Moon ED composer, Akika Kosaka.
The ice skating re-telling of the Dark Kingdom arc story of Sailor Moon will run the weekend of June 5th through the 7th, at the KOSÉ Shin-Yokohama Skate Center in Yokohama, Japan...which is a small venue that can fill up to 2,500 people.
Pre-orders have already started for Pretty Guardians fan club members, which will run until the end of the month. Everyone else will have to wait until March 16th for pre-orders.
And the performance times are as follows:
June 5, 2020 (Fri)
Open 12: 30 / Start 13:30
Open 17: 30 / Start 18: 30
June 6, 2020 Sunday (Sat)
Open 11:00 / Start 12:00
Open 16:00 / Start 17:00
June 7, 2020 (Sun)
Open 11:00 / Start 12:00
Two performances on the 5th and 6th, while only 1 performance on the 7th.
SOURCE: http://sailormoon-official.com/information/_prism_on_ice.php
We can never forget that four years ago, she did a freestyle skating program to her favorite anime in Japan, that caught the attention of Naoko Takeuchi, and sparked from this:
Kudos to Miss Medvedeva, and good luck to the cast to bring Sailor Moon on ice!
Oh, and before we close, we want to share this, because Ms. Medvedeva had some fun with the wig she wore at the reveal event:
View this post on Instagram
We can't help but ask:
WHO WORE IT BETTER?
Closing
What do you think of this all-star assemble of ice skating champs for Sailor Moon? Who's your favorite professional ice skater that you love to see them in costume? Or if not in the cast, wish they would?
Our garage sale is still running and on all magazines we have a buy one get one free deal! EVERYTHING that has been taken apart (labeled as "unbound" throughout) is ONLY A PENNY plus shipping! Plus all of our Doujinshi have been marked down to a steal price of $5! New Doujinshi we receive in the future from our donour WILL honour this deal. So make sure to check out our garage sale!
Got a super rare anime episode you are DYING to have translated? A Manga that was never EVER released in English? Let our professional translators at Fandom Services take care of that! For more information check out Fandom Services on Facebook!
We also now have a Patreon! You can help keep Miss Dream going by donating as little as $1 a month! The total cost of our month to month hosting and Cloudflare bill is $315! Plus, because we're always looking for new content and merchandise to digitize and add to the site it quickly adds up and gets pricy. Enter Patreon – a monthly tipping and rewards site that allows you to support your favorite content creators and get perks as a thank you. The content here at Miss Dream will never be held behind a paywall, however we are eternally grateful for any support our fellow dreamers can provide to help ease the cost of the hosting bill to make it easier for us to keep acquiring materials to share. If you want to donate but not on a monthly basis, we always have our donation page where you can donate as much as you'd like, whenever you'd like. Any donation whether big or small is greatly appreciated. =D
That concludes this week's blog post! Let us know what your favourite addition to the site was in the comments! Have a lovely week, everyone!!!