This page is a translation of the Sailor Moon in ChouchouALiis vol.2 April 2014 Issue article. This article contains information about the Sailor Moon 20th Year Anniversary Project, as well as data about the history of the franchise. This is a very informative, but quick article for anyone curious about the history of Sailor Moon in Japan. :)
Sincere thanks to ainomessage for translating this article for Miss Dream! Scans courtesy of Mizuno Caitlin of Wild Mushroomland.
Love, Friendship, and Battles! Pretty Guardian Sailor Moon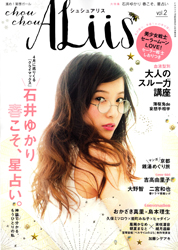 click here for full size
Sailor Guardian Bookmark included

The shoujo manga Sailor Moon taught us about love and hope. What was it that made those of us right in the middle of the Sailor Moon generation cry, what set our hearts fluttering, and why are we still obsessed with Sailor Moon after all this time?

The reasons I've loved Sailor Moon as both a girl and a woman.
"Pretty Guardian Sailor Moon" began in 1992 at the same time as a new era for shoujo manga. In the beginning, heroine Usagi Tsukino and the Sailor Guardians were all middle school students. Those of us who were also young girls at the time fell for these girls who both fought and loved. Time has passed and now we are adults.

I thought that at some point I had "graduated" from Sailor Moon. As Sailor Moon celebrated its 20th anniversary in 2012, it's gotten popular all over again! Why is that? It's because it holds a wonderful power to be relatable even to those of us who have grown up. We've passed the girls in age and had various life experiences, but if we look back at the series we see that the way the Sailor Guardians mature and overcome challenges mirrors our own path through life. Now that we've become adults we want to proclaim our love for it even more! There's something more to Sailor Moon than just nostalgia.

Sailor Moon taught us to never give up and to always remain sweet. I plan to explain the value of this series to my younger self and to my adult self of the present.
July 2014 – New Sailor Moon Anime starts!
The new anime celebrating the 20th aniversary of Sailor Moon will air simultaneously around the world on Nico Nico Douga. The theme song will be sung by Momoiro Clover Z. In the name of the moon, you gotta watch it!
We Grew Up with Sailor Moon!
1991
• Collapse of the bubble economy
• "Code Name: Sailor V" first published in the summer break edition of "RunRun"

1992
• Serialization begins in the February issue of "Nakayoshi"!
• TV anime is announced!
• The "Nozomi" bullet train starts running on the Tokaido line.
• The comics are started into print.
• Mr. Mamoru Mohri goes to space

1993
• TV Anime "Pretty Guardian Sailor Moon R" begins airing!
• J League opens.
• Prince Naruhito marries Princess Masako
• Sailor Moon wins "17th Kodansha Manga Award"
• The Pretty Guardian Sailor Moon Musicals begin!
• Odaiba Rainbow Bridge opens
• The first theatrical movie "Pretty Guardian Sailor Moon R"opens

1994
• TV anime "Pretty Guardian Sailor Moon S" begins!
• The drama "Sans Famille" airs.
• Matsumoto sarin gas attack.
• Oe Kenzaburo wins the Nobel Prize in Literature
• 2nd Theatrical Movie "Pretty Guardian Sailor Moon S" opens

1995
• Great Hanshin Earthquake
• TV anime "Pretty Guardian Sailor Moon SuperS" begins!
• Subway sarin gas attack
• Namie Amuro's solo debut
• With the release of the 10th comic volume, over 10million volumes sold!
• 3rd theatrical movie "Pretty Guardian Sailor Moon SuperS" opens

1996
• TV anime "Pretty Guardian Sailor Moon Sailor Stars" begins!
• SMAP's Katsuyuki Mori becomes a racecar driver
• SPEED debuts with "BODY & SOUL"

1997
• Serialization finishes in the March issue of "Nakayoshi"
• TV anime finale also airs
• "Sakakibara Seito" incident
• Sales tax raised 5%
• The 18th and final volume of the comics is released
• Sovereignty of Hong Kong transferred from England to China
• X Japan disbands
• "Code Name: Sailor V" concludes in the November issue of "RunRun"
They were strong and cute and I truly looked up to them. They were all my "favorite members" ♥

Usagi's rival is her best friend!? The heroine of the future, Chibiusa.

She appears in the 2nd arc! She is Usagi and Mamoru's child from the future. Though she was Usagi's child, they were rivals in love too – it's a little complicated. Neither could be honest with each other and they fought often… But little by little they grew to understand each other and became great friends. They are mother and child but also best friends. That kind of bond is wonderful.

I want a pet like Luna and Artemis!

A talking cat is an easy approach. They might say some harsh things sometimes, but they'll stay by your side when you're feeling down. A partner like that who is neither friend nor lover is a must! Both were named after Greek and Roman mythological goddesses of the moon. During the movie that starred Luna, she fell in love with a human and turned into a super cute girl. Everyone wanted to cheer her on!

These two were the longest running story characters (in the middle is their child Diana)

Sailor Moon was born from this story. The Sailor V story, starring Minako. This was actually the beginning.


click here for full size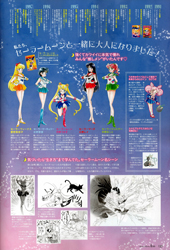 click here for full size
Sailor Jupiter | Makoto Kino
We fell for her height & strength and strong will! But actually her hobby is cooking and her dream is to be a bride, so she has a romantic girlish side too. She lost her parents and lives alone. Manipulating the clouds and storms, her powers are thunder based.

Sailor Mars | Rei Hino
She's a myserious cool beauty. She has a strong personality and is a miko with the power of precognition. She attends the super fancy private school T.A. Girls' Academy. She has a single father. Manipulating flames, her powers are fire based and "Evil Spirits Disperse!

Sailor Moon | Usagi Tsukino
She's a childish crybaby, but she's always honest! Girls always yearn to be this type of character, loved by everyone. In her past life she was Princess Serenity. Protected by the moon, she is the undefeatable guardian. Her powers are based in purification.
Sailor Mercury | Ami Mizuno
The only one with short hair. With an IQ of 300 she's a genuis, but we loved the gap between her smart and ditzy side. She sometimes wore glasses. Her mother is a doctor and the two live together in an apartment. She acts as the brain and manipulates water. Her powers are water themed.
Sailor Venus | Minako Aino
The leader of the Sailor Guardians who is full of energy and dreams of becoming an idol. Her long hair and red ribbon are the symbol of a pure maiden! She faught as Sailor V in the past. Protected by the power of love and beauty, her attacks are energy based.
Before we knew it we were learning "how to live." Here are the most famous scenes of Sailor Moon.
Love and friendship and battles – the Sailors had hectic days and when I was a girl I was jealous of their lives. But now that I look back, I realize that the things they worried about and overcame were no different than what I went through. I may have learned many of life's lessons from many points of the manga.
After Tuxedo Mask comes under control of the enemy, Sailor Moon chooses to end her suffering by killing herself. In life we must make some final decisions. What if those decisions were about love and work?
Once Usagi awakened as the Princess, her hair suddenly grew. Was this a hint at her growth from a girl into an adult!?
Dialogue: You guys…
Dialogue: Usagi!? Your hair…!?
Worried about Usagi, everyone goes to her side. "Doing each other's hair" embodies the friendship between girls and warms my heart!
Dialogue: Maybe because your memories returned all of a sudden your body is experiencing changes too.
Dialogue: It was super long when you were the princess, after all.
Usagi and Luna's destiny begin with this scene. A new "destiny" is always hiding in the most normal of days.
Dialogue: Oof!
SFX: Jump
SFX: Bounce
I adored the scene when she transformed from a normal girl into Sailor Moon. A girl can "Make Up" at any time and turn into the person she wants to become.
Dialogue: Make Up!!
2000
• The musicals reach 500 performances!
• 2000yen bill and new 500yen coin enter circulation
• KimuTaku and Shizuka Kudou get married
• The Oedo Subway line opens

2001
• USJ Park Opens
• The musicals reach 600 performances!
• Tokyo Disney Sea Park Opens
• Terrorist attacks in the United States

2002
• Sailor Moon celebrates its 10th anniversary!!
• The Euro begins circulation
• 5-day school week and pressure-free education system begins

2003
• 20th Anniversary of Tokyo Disneyland
• Roppongi Hills Opens
• The re-print edition of the comics is released
• Live Action TV Drama begins airing!

2004
• Athens Olympics Opens
• Re-print edition of "Code Name: Sailor V" released
• New 10,000yen, 5,000yen and 1,000yen notes released
• Nintendo DS released

2009
• Obama is elected and becomes first black president of America
• Lay judges system begins
• DVD Collection Vol. 1 released

2011
• Prince William of England marries
• Nadeshiko Japan wins the world cup
• Digital broadcasting begins

2012
• Sailor Moon celebrates its 20th anniversary!!
• Tokyo Sky Tree Opens
• Liver sashimi banned

2013
• Mt. Fuji becomes World Heritage site
• Tokyo chosen as the site of the 2020 summer Olympics
• The musicals are revived with "Pretty Guardian Sailor Moon La Reconquista"
• Perfect Edition of the comics is released. "Each month 2 volumes are released!"

2014
• New anime will air in July on NicoNico Douga!
Mamoru Chiba | Mamo Info | Tuxedo Mask

A 2nd year student at a super elite high school. Aiming to be a doctor, he attends KO University and goes to Harvard to study abroad. He's the unmatched hot guy.
Dialogue: UGH you again
Dialogue: Don't use that whiney voice. I run into you a lot, dumpling head.

To find the "Illusionary Silver Crystal," he sets out at night as Tuxedo Mask. He supports the Sailor Guardians.

Nicknames that only lovers use for each other, that's like cheating to win our hearts!
Dialogue: Usako
SFX: Thump

Exciting Scenes with Usagi
What! Kissing in bed!? I couldn't look away from this adult kissing scene.

I admired the relationship between the lovers from a past life "Usagi and Mamo"


click here for full size
Having an older boyfriend who goes to another school was a key point of the story. When I was a young girl the idea of a kiss or a hug made my heart race, and I chased after the idea of the love I might one day experience. I was more in love with the romance between Usagi and Mamo than I was with Mamo himself. Even now, the idea of your first boyfriend being the person you were meant to be with (and are destined to be with in the future!) who never cheats or breaks up with you, that's like a dream!
Seeing the happy sleeping faces of parents Usagi and Mamo with their child Chibiusa made me think about how wonderful family is.
ChouchouALiis x Sailor Moon Original Bookmark
Make a clean cut here!
The story includes these other elements girls love ♥
click here for full size
Names of planets, stories of past lives, mythology, compacts, long hair, and those Sailor uniforms… there's no end to the elements that excite young girls. The boss of the first arc, Queen Beryl and the Four Generals of the Dark Kingdom are all named after stones. The sounds of those mystical names were so enchanting!

I love the meaning of the stones!

All of the generals were hot guys!

They were Beryl's servants but in their past lives they served Mamo! And each shared a romance with one of the Sailor Guardians.

Dialogue: Master, I'm glad we were able to see you.
Dialogue: I hope this time the two of you can bring peace…
Nephrite
Nephrite is a type of jade with a deep green color that represents "knowledge and tranquility." Sensitive to space and nature, it raises the ability to percieve and think. Another name for it is "The stone of philosophy."
Zoicite
A beautiful and mystical blue stone. It changes negative energy into positive and helps to express the good points of the user! It's a stone posessing creative energy.
Jadeite
A stone loved by the people of Asia since ancient times, it has the power to raise the five virtues (truth, contentment, compassion, humility, love). It will support you in your dreams to express your hidden strengths! It is a type of jade and comes in many colors.
Kunzite
This lilac pink stone teaches of "a love that asks for nothing in return." This stone has a soothing power and raises creativity.
Stone Photos: Iroha ni Houseki
The boss of the 1st arc, Queen Beryl
She was a bit of a pitiful woman who loved Mamo but wanted to destroy the world when her feelings were not returned.
Beryl
This pastel colored stone brings forth wealth and posterity. It raises perception and puts you on the path to becoming a great leader. The color is surprisingly cute and you wouldn't think it would be associated with a villain.
I loved the Greek Mythology
In their past lives, Usagi and Mamo were the princess of the moon Princess Serenity and the prince of Earth, Endymion. These names originate from Greek mythology! The goddess of the moon Selene fell in love with an earth man named Endymion. They met secretly every night in a cave on Mount Latmus. But humans must someday die. Selene borrowed the power of Zeus to envelop him in an eternal sleep, and now the eternally beautiful sleeping form of Endymion shines in the light of the moon.
Even as an adult these goods are killing us with cute
Pretty Guardian Sailor Moon Leather Card Case
10,000 yen / Bandai Fashion Net
A card case for grown women. It's pink with the symbols of the 5 guardians on it! The crystal star is decorated with Swarovski. It has both a classy and girlish feeling and is perfect for work.
You can do it Tuxedo Mask!!
200yen per piece / Bandai
I'm in love with these Tuxedo Kamen capsule figures that come in different poses. This is the first time Tuxedo Mask has gotten his own goods! You might even be able to carry them as a charm to help you find your fated lover!?
Planetary Symbol Earrings, 5 piece set
12,000yen / Premium Bandai
Present to 1 reader
Earrings of the 5 guardians's planetary symbols. The shining stones are actually Swarovski crystals! There is one earring for each of the 5 Guardians's marks, so you can mix and match as you like. The Sailor Guardians will add a sparkle to your ears.
The present code is Q. See p98 for details on how to apply.
Make a clean cut here!