This is a translation of a Sailor Moon Crystal article in EX Taishu, a monthly gravue magazine published by Futabasha (the best comparison with non-Japanese publications would be the US editions of Maxim or FHM). Scans provided by Andrew Yu, who insists he bought it just for this article. Translation by Alita, a huge fan of Sailor Moon and Morning Musume. Layout by Galadan.
Nogimate
The column where
the 2D-loving members of Nogizaka46
experience Japanese culture! Animate Approved
"Bishoujo Senshi Sailor Moon" returned this July as "Bishoujo Senshi Sailor Moon Crystal"! And now Nogizaka's sweet and sour pair, Kazumi Takayama and Hina Kawago, are off to hold an interview with Sakai, the director of the new animation, and Kamiki, the producer. In the name of the moon, let's conduct an interview!
–So, Takayama, why don't you tell us what got you into Sailor Moon?
Takayama: I didn't grow up with it, but last year I went with Hina to see the musical and I was instantly hooked. So now I'm collecting all the goods really wishing I'd been born in the "age of Sailor Moon".
Kamiki: What kind of goods have you bought so far?
Takayama: Well, I bought the moon rod, and the pointer ball pens. And I bought two of the make-up compacts, one to use and one to keep pristine. I'm honestly about to go bankrupt. (lol)
Kawago: I also collect the goods and had a hard time because the gatchapon transformation broaches were sold out everywhere I looked. There was nothing online saying where they might still be found so all I could do was go out looking on my own. Finally, I found a hidden spot that hadn't been cleared out yet. There was one other person there, so we took turns with the machine and in the end I somehow got a full set.
Kamiki: All of the outfits and accessories in Sailor Moon are really cute. And there are so many points in the series that really pull at your heart-strings. Those moments really making you think "Wow, Takeuchi-sensei really understands people's feelings."
Takayama: When some of the Sailor Moon fashion collaboration items went on sale, there were things that I really wanted. But, the problem was that the time the reservations for them started overlapped with when I was supposed to be filming for a TV program. I knew it would be cutting it close for getting on set for the filming but I told the staff, "Please, just let me put this reservation in!" and was able to reserve what I wanted the moment things went on sale.
Kamiki: Everything sold out right away, so I'd say it was worth it, lol. So, who is each of your favorite characters?
Kawago: I love everyone, but I'd have to say that Venus and Chibi-usa are my favorites.
Takayama: Mine is Mercury.
Kawago: She even cosplays as her under the name Ka-cury.
–This is what she looks like when she cosplays as Mercury. (See the image on the right.)
Sakai, Kamiki: That's really great!
Takayama: I'm really sorry if I am completely different from the image you have of Mercury as being this tiny little genius. When I announced on my blog that I'd be cosplaying as Mercury for my handshakes, many fans from overseas came in my lane to see me. I realized that although there might not be that many people who want to come see Kazumi Takayama, there are tons of people who want to meet Ka-cury! (lol)
Kamiki: I guess there are a lot of fans for whom the character they like in a way represents their perfect image of a woman.
Kawago: That's exactly what it is!
–And what about you, Sakai? As the director, who's your favorite character?
Sakai: I was already working for the company 20 years ago when it started airing and I was always a fan of Venus. However, it was really difficult to collect the goods back then. (lol)
Takayama, Kawago: (lol)
Sakai: Oh, but I did buy all the character song CDs.
Takayama: Oh, that's really cool. Speaking of which, I had a chance to watch the new "Sailor Moon Crystal" and wow, the voices are all so good! Usagi's voice is the same as before, of course. And even though Mercury has a new voice actress, I immediately thought "Yeah, that's Ami" when I heard her. The art style has really changed, hasn't it?
Sakai: That's right. Unlike the old animation where the characters were rounded out, this time we've been working to make it as close to the original manga as possible and are trying to create a mature look for the characters on all fronts.
Takayama: Tuxedo Mask is even cooler than he was in the past.
Sakai: We're also trying to bring in even the most minor details from the manga for this series.
Takayama: I can see that. When I watched my DVD of the original animation and compared it to Crystal, I could really see how well it was brought out in Crystal.
Sakai: I'm glad, except I should probably tell you that I actually have avoided re-watching the old animation. I already have it burned into my head from watching it as it aired and I figured that if I watched those episodes again I'd only be putting out the same exact series.
Takayama: Oh, I see what you mean~ By the way, I'm really happy that it's being broadcast over the internet this time so fans around the world can see it.
Kamiki: That's actually the reason we chose to broadcast it over the internet instead of airing it on TV. We felt like it'd be great for fans around the world to all enjoy it at the same time. It was even shown at Japan Expo in Paris and Anime Expo in Los Angeles. I heard that the performance put on by the musical cast at Japan Expo was so popular that the seating filled up instantly and it was standing-room only in the back.
Kawago: Yeah, it's really amazing. When we went to see the musical last year, there were quite a few fans from overseas in the goods line in front of us who were wearing different Sailor Moon items. After the musical, we both had such huge grins on our faces as we talked about it on the way home.
–How was Japan Expo for you?
Takayama: We really wanted to see the Sailor Moon stage event, but our schedules didn't allow us to. But, when I told the staff that I really wanted to enjoy something Sailor Moon related since I'd come all the way to France for the event, I was somehow able to cross paths with a man cosplaying as Sailor Mars. (lol)
Sakai: Well, that's one way of enjoying it. (lol)
Takayama: Yeah, it certainly made for a good memory. (lol)
Kawago: I was assigned to go out and interview some fans, so I was able to talk with a lot of the Sailor Moon cosplayers. Mars seemed to be the most cosplayed, including by men. (lol)
It's a legendary story that has been loved for 20 years.
Kawago: So, what was the animation studio's atmosphere like?
Sakai: Well, to start with, we got a lot of calls from animators that aren't connected to Toei studios asking us to let them work on the project. And then, when we had our first meeting, one of the staff members attending brought in their copies of the original manga, which happened to be first press editions. On top of that, if someone on the Toei side made a mistake, it would immediately be called out and we'd be told things like "I don't think Usagi would ever say this." (lol) When we finally thought we had the character designs ready and were feeling really good about them, someone would then say "The clothes aren't cute enough."
Kamiki: I ended up putting together sets of clippings from fashion magazines for each character and giving them to him. I swear I gave him what the characters would wear and not just what I liked. (lol)
Takayama: I also really love Sailor Moon and never could've imagined I'd be doing an interview about it. It feels really good to have what I love and what I do for work come together like this.
Sakai: I feel like the fact that it's still something that people love 20 years on is one of the reasons it's considered "legendary". It's a story that people can easily empathize with, a story about a young girl falling in love and growing up. Along the way she has her moments of jealousy and there are a lot of situations that you'd see in any good drama. I think that's why the appeal doesn't go away no matter how much time passes.
Takayama: Sailor Moon is what makes everyday fun. I think that from now, there are going to be more and more kids who, like me, wish they'd come across Sailor Moon sooner. So, I really hope that Sailor Moon will continue forever!
Sakai: And I hope that 20 years from now, you two will still be telling people all about it.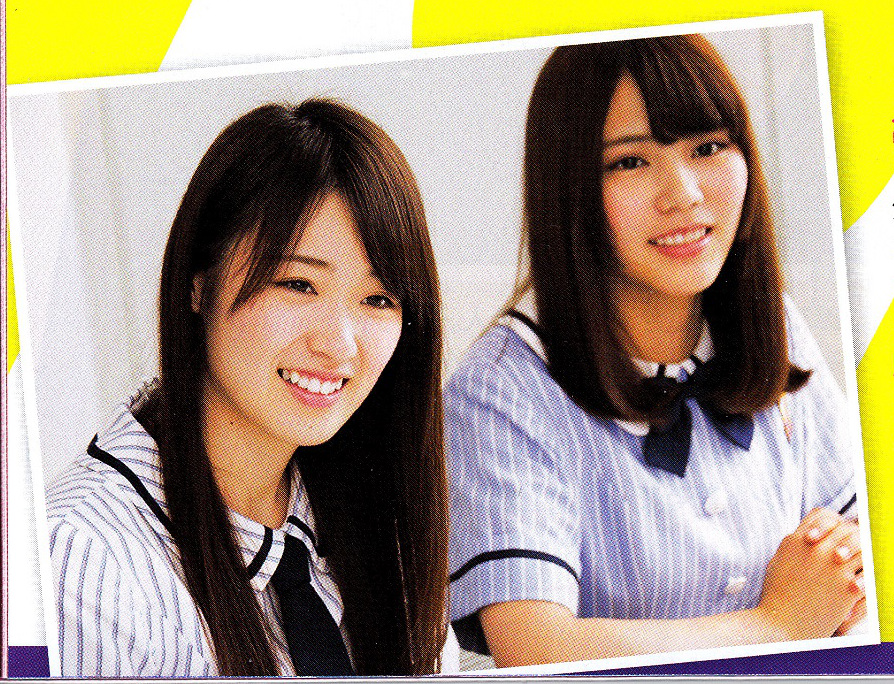 Takayama: There was actually one girl who came to do a handshake with me out at Makuhari Messe (in Chiba) in the morning, went to Ikebukuro (in Tokyo) for an event put on by the musical cast, and then came back to do another handshake with me after the event was over.
Kawago: And I've had fans come to my handshake lane and ask me to say "In the name of the moon, I'll punish you!" I said it of course, but I kept asking myself why they wanted me to say it. (lol)
The musical "Sailor Moon ~Petite Etrangere~" is coming to theaters soon!
Presented by an all-female cast, the new Seramyu is set to have a second musical! And this time, the cast will be joined by Chibiusa and Pluto to present the Black Moon Arch!
Tokyo: 8/21 (Th) – 31 (Sun) at the AIIA Theater Tokyo
Osaka: 9/5 (Fri) – 7 (Sun) at the Umeda Geijitsu Gekijou Theater Drama City
No. 16: Bishoujo Senshi Sailor Moon Crystal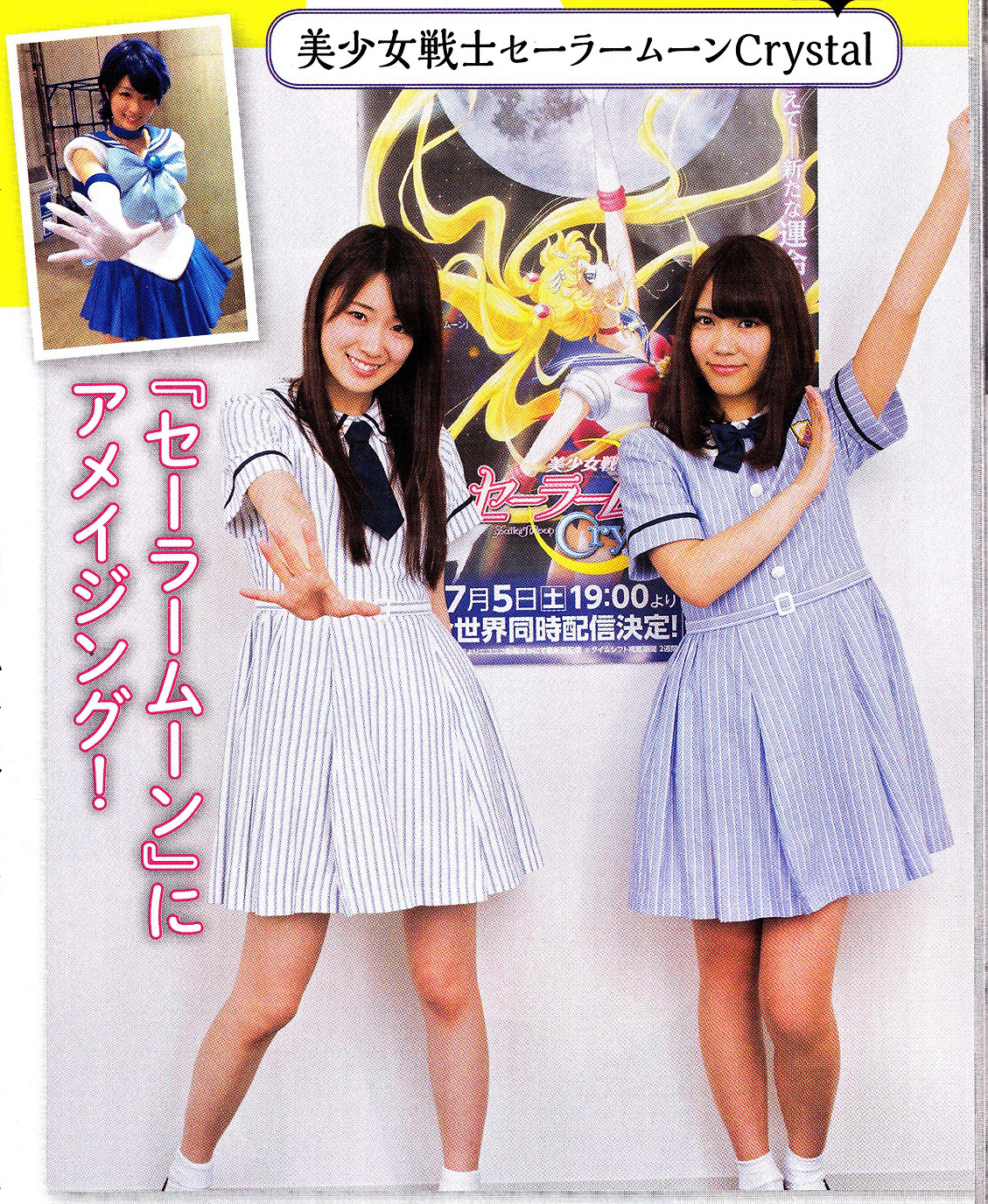 Sailor Moon makes me amazing!
Left: Kazumi Takayama. Born February 8, 1994. From Chiba.
Right: Hina Kawago. Born March 22, 1998. From Nagasaki.
Happening now, Nogizaka summer tour "Manatsu no Zenkoku Tour"!
August 16 – Osaka Chuo Gymnasium August 21 – Fukuoka International Center
August 24 – Sendai Zebio Arena August 26 – Nihon Gaishi Hall
August 30 – Meiji Jingu Baseball Stadium
For details, visit the homepage http://www.nogizaka46.com

Sailor Moon goods have Kazumin on the edge of bankruptcy?
Above you can see the participants in today's discussion with our Nogimates: Sakai (right), the director, and Kamiki (left), the producer of the new animation. "My job as the director is primarily to look over all parts of the animation and sound and decide what works best," says Sakai. "And I'm the one who's in charge of thinking in terms of promotion and products and when they should be released, etc. Well, that and a whole lot more," says Kamiki as she laughs.
"Sailor Moon Crystal" Airing now!
Takayama: (Looking at the displayed images) Wait, have Mercury's sleeves always been this short!?
Kamiki: Yes, they were drawn this way following the original manga design. They're very sexy, aren't they?
Takayama: No way~ I've always felt really self-conscious about my arms because they get fat easily and now I can't hide them with the sleeves! There are also some slightly differences in how many piercings she has, are you sure you didn't forget to draw them all?
Sakai: You know, she does seem like the character you'd occasionally forget to draw something on.
Kamiki: Don't worry, we're carefully checking even the smallest points. And well, because Sailor Moon has become the inspiration to many now adult women, the promotion surrounding it has been top-notch. Looking at these images, you'd never believe these girls were only in the eighth grade.
Takayama: I know. No matter how hard I try, I'll never have as amazing of style as them, but I'll try my hardest! (lol)
©Naoko Takeuchi PNP Kodansha Toei Animation
Just like the 90s, Sailor Moon returns to the air at 7pm on Saturdays!
The latest episode is aired every 1st and 3rd Saturday from 7pm on Niconico Douga. *Timeshift viewing is available for 2 weeks after the original air time.
Official site: http://sailormoon-official.com/animation Niconico Page: http://ch.nicovideo.jp/sailormoon-Crystal
Editor's Note
The "interviewers", Kazumi Takayama and Hina Kawago, are members of the idol group Nogizaka46. Nogimate seems to be a subgroup, and this is not the only place it is called "2D-loving", but I haven't been able to find out why.