This is a translation of the recent (July 2014 issue) Sailor Moon Crystal article in Animedia. Scans by MizunoCaitlin. Translation by ainomessage. Formatting by Galadan.
The raw scans can be found here.
"The Pretty Guardians of love and justice are on the scene!" That bun-headed girl is coming back.★
The centerpiece of the "20th Anniversary Project" celebrating 20 years since the publication of the original manga, "Pretty Guardian Sailor Moon Crystal," will begin airing in July. We asked the director Munehisa Sakai to share with us his enthusiasm about the new series!
Sailor Venus
Minako Aino
(Voiced by Shizuka Ito)
She is the leader of the Sailor Guardians who was active as "Sailor V" before Sailor Moon came along. She is the guardian of love protected by the planet Venus.
Sailor Mercury
Ami Mizuno
(Voiced by Hisako Kanemoto)
With a genius-level IQ of 300 she uses her intelligence and composure to act as the brain of the Sailor Guardian team. She is the guardian of wisdom protected by the planet Mercury.
Sailor Moon
Usagi Tsukino
(Voiced by Kotono Mitsuishi)
She's the protagonist of this story. She transforms into Sailor Moon and continues her fight day and night in the name of love and justice! Her catchphrase is "In the name of the moon, I'll punish you!"
Usagi is actually the type to wear her heart on her sleeve. When college student Mamoru Chiba calls her hairstyle "bun head," she's mad at first, but…
Luna
(Voiced by Ryo Hirohashi)
The black cat who acts as Usagi's partner. She gives Usagi her transformation brooch and awakens her as a Sailor Guardian. She's dependable and obliging.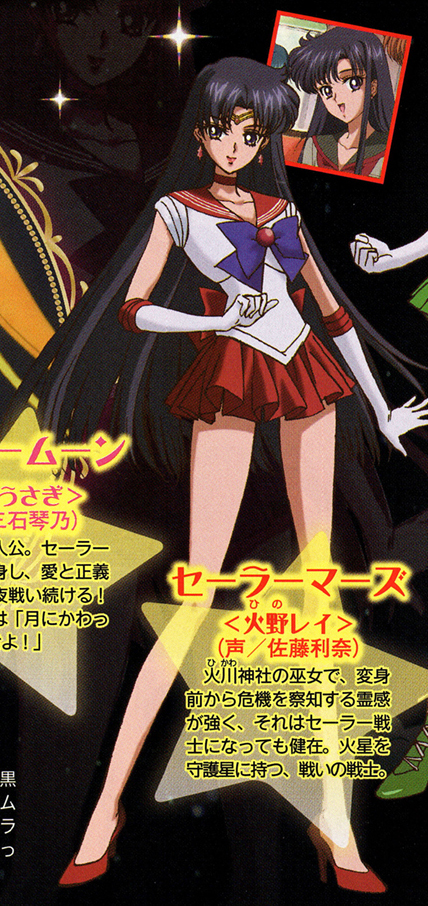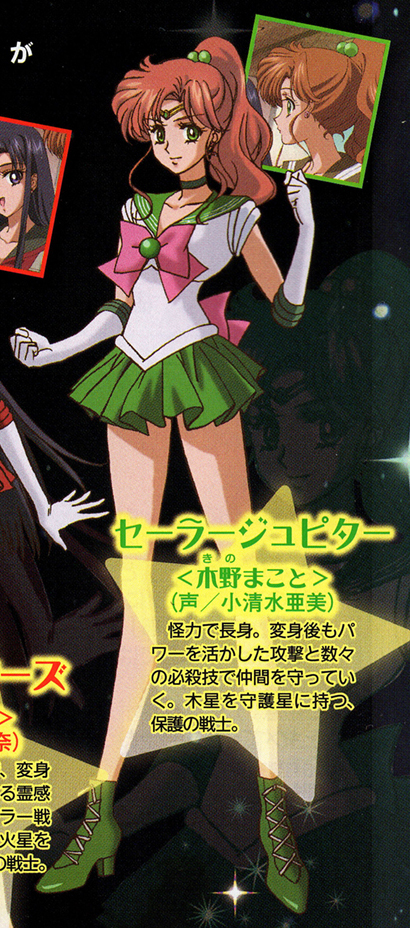 Sailor Mars
Rei Hino
(Voiced by Rina Satou)
As a miko at Hikawa Shrine she already possessed the spiritual power to sense danger before she ever transformed. Even after she transforms that power remains strong. She is the guardian of battle protected by the planet Mars.
Sailor Jupiter
Makoto Kino
(Voiced by Ami Koshimizu)
She's tall and has incredible strength. She retains her power after transforming and protects her friends with her physical attacks and many magical attacks. She is the guardian of protection, protected by the planet Jupiter.
A World of Dreams and Romance Brought to You in the Latest Imaging Techniques!
"Pretty Guardian Sailor Moon" is a serial manga that began in 1992 and is a landmark work in the girls' manga genre. Middle school students in sailor uniforms, Usagi Tsukino, Ami Mizuno, Rei Hino, Makoto Kino, and Minako Aino are 5 friends (later more join) who transform into pretty guardians. It's a story about their fight to protect the Phantom Silver Crystal and their battle against Queen Beryl and her clan who want to make the Earth their own.
The guardians transform magnificently and fight. On the other hand, the 5 girls have normal lives as middle school students and enjoy things like gossip and fashion. And then there's the person the hero Usagi is destined to be with… It's a dream world that girls aspire to. ☆
Immediately after its serialization the manga was turned into an anime that ran for 5 seasons and became a huge hit series. It's no exaggeration to say that the comics and anime are loved around the world, with stage shows (musicals) even being established based on the manga. That mega hit manga that became a social phenomenon has come back again as a new anime! You can't miss this!! Please tell us, Director Munehisa Sakai, what kind of "Re-make up" is this going to be?
Pretty Guardian Sailor Moon Crystal
– Begins airing internationally on July 5 every 1st and 3rd Saturday of the month at 7:00pm on NicoNico and other streaming sites
http://sailormoon-official.com/animation
© Naoko Takeuchi / PNP/ Kodansha/ Toei Animation
– STAFF
Original Manga – Naoko Takeuchi, Director – Muenhisa Sakai, Series Script Supervisor – Yuuji Kobayashi, Character Design – Yukie Sako, Art Directors – Takashi Kurahashi and Yumi Hosaka, Music – Yasuharu Takanashi, Music Production – King Records, Animation Production – Toei Animation, Theme Song – Momoiro Clover Z
– CAST
Sailor Moon (Usagi Tsukino) – Kotono Mitsuishi
Sailor Mercury (Ami Mizuno) – Hisako Kanemoto
Sailor Mars (Rei Hino) – Rina Sato
Sailor Jupiter (Makoto Kino) – Ami Koshimizu
Sailor Venus (Minako Aino) – Shizuka Ito
Tuxedo Mask (Mamoru Chiba) – Kenji Nojima
Luna – Ryo Hirobashi
And others
STORY – Usagi Tsukino is a clumsy crybaby in her second year of middle school. She's always running late and her grades aren't very good, but her cheerfulness is her redeeming feature. One day she meets a black cat and removes a band-aid from its head. It appears in her room and announces "You are a chosen guardian." When that black cat gives Usagi a brooch…
"This time our plan is to start at the beginning of the completed manga and turn it into an anime. The world of "Sailor Moon" is splendid and gorgeous as well as delicate. The flow of the hair, the sparkle of the costumes, the softness characteristic of girls' manga and full of dreams. The story centers around the mystery of the "Moon Princess" and involves Usagi and friends' memories of their past lives; it's like a magnificent and romantic epic poem. Since the original work was so gorgeous, we can now use the latest imaging techniques that have developed over the past 20 years to really convey that splendor. In particular, during the transformation scenes I'd like to use CG to capture the movements of the girls from different angles, freely use lighting effects, and have a flashy display of their twirling forms."
The air time of "Saturday nights at 7:00" is the same as the original TV anime and it makes us feel nostalgic.
"Actually, our focus is on women who read the manga and watched the anime when it originally aired. We'd like the girls who have become adults to immerse themselves in the dream world of "Sailor Moon" all over again. Rather than making them feel nostalgic, we want them to once again experience that dream-like feeling they felt when they looked up to the Sailor Guardians. We'd like them to become even more engulfed in that dream world with the new show."
A new setting is of course being prepared as well. Sailor uniforms are of course timeless, but their street wear and the guest costumes are being redesigned to match current trends. The location will be the same as in the original manga, Tokyo's Azabu Juuban. Of course we'll be seeing the Azabu Juuban of 2014.
In addition, the cast aside from Kotono Mitsuishi as Usagi is entirely new. Mitsuishi attended the auditions and the new Sailor Guardians (listed bottom right) were chosen by matching their voices with hers.
"As part of our new presentation, an important scene that occurs much later in the story is going to appear in the first episode. That's something that we can only do now that the original manga is complete. We use techniques like that all over the place, so I hope people can watch it with excitement."
Faithful to the original manga but still new. And a work distinctly aimed at "adult women"! Usagi, show us your magnificent transformation, okay? ☆
Musical Announcement
"Pretty Guardian Sailor Moon ~Petit Étrangère~" is coming to theaters!
[Tokyo]
Dates: 8/21 (Thurs) – 31 (Sun), 2014 Location: AiiA Theater Tokyo
[Osaka]
Dates: 9/5 (Fri) – 7 (Sun), 2014 Location: Umeda Performing Arts Theater / Drama City
*See here for details!
http://www.nelke.co.jp/stage/sailormoon2014