Yuga Yamato was sweet on Chibiusa like a real "papa"! The "Sailor Moon" musical dress rehearsal exhibition
A public exhibition of the dress rehearsal for the musical "Pretty Guardian Sailor Moon ~ Petite Etrangere~," fondly known as "Sera Myu," at AiiA Theater Tokyo.
The previous show depicted the battle between the Sailor Guardians and the Dark Kingdom over the "Phantom Silver Crystal," a stone with power strong enough to control the world. Continuing where the story left off, this musical follows the story of a battle with the "Black Moon Family," a group who use the power of the rival "Evil Black Crystal" to destroy the world in the 30th Century and now plan to crush the "Phantom Silver Crystal." As it so happens, the subtitle "Petite Etrangere" means "Little Stranger" in French and refers to the appearance of the mysterious young girl "Chibiusa."
During the dress rehearsal the passion of the cast was obvious in their singing and dancing right from the start. We saw Chibiusa and Usagi arguing, heartwarming scenes of their daily life with Mamoru, lots of battle scenes, nerve-wracking plot developments and an exciting climax. It was clear the production has powered up.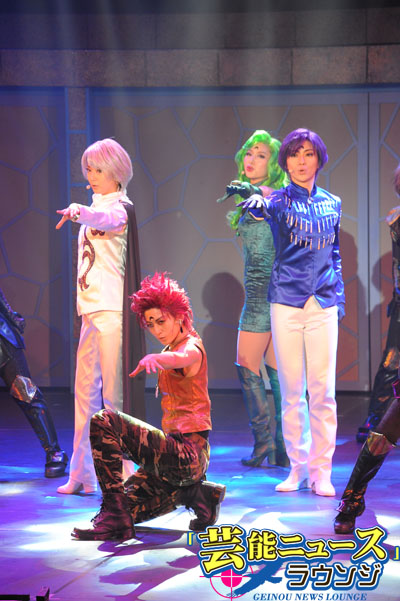 After the show a press conference was held with Satomi Ookubo (Sailor Moon/Usagi Tsukino), Kanon Nanaki (Sailor Mars/Rei Hino), Yuu Takahashi (Sailor Jupiter/Makoto Kino), Shiori Sakata (Sailor Venus/Minako Aino), Momoyo Koyama (Sailor Mercury/Ami Mizuno), and Yuga Yamato (Tuxedo Mask/Mamoru Chiba).
When asked how she felt about today's dress rehearsal Ookubo said "We're always performing in front of just the staff, so I was glad to hear a real audience laugh at the jokes! It gave me confidence! I think this play is going to be moving." Seeming like she wanted to add something, Yamato gave high praise: "I think it's a really great play. It feels like the bonds of our friendship have become even stronger than last year! Feelings of love and friendship come forth naturally and that makes this a wonderful company."
Koyama added "Being on stage we were able to see the amazing lighting that wasn't at the rehearsal studio and our motivation really came out. I'd like to experience this happiness one show at a time." As a happy smile appeared on Koyama's face Takahashi mentioned that Koyama has adored the musicals since she was 3 years old. She kindly pet Koyama and said "She's so happy to play 'Koyama Mercury' that it makes me happy to be with her as her dream comes true."
Nanaki said "This time we've all become really close and I feel like if we weren't together we wouldn't be any good." Sakata added her ambitions: "I hope we can live up to the support of our fans and return some of that power to them."
This show includes new characters not seen in the previous musical, but Yamato was especially charmed by Chibiusa. "I'm playing the role of Chibiusa's father, but man she's so cute!!! I guess this is what it feels like to be a dad. If I say those things I'll make (Usagi) jealous though (haha)," she said with a smile.
When asked about her favorite song, Ookubo answered, "We want to join in with the villains! We love the villains' theme song so much that we know the choreography." All of the Sailor Guardians started humming the song and Yamato chimed in, "They play along during rehearsals (haha)." With a fond look in her eyes, Yamato added "I also like the choreography to the new group song." She seemed so enthused that she might break into impromptu dancing.
In closing, Ookubo said "The previous show was about the friendship of the Sailor Guardians, but this time we also portray the love between parent and child." The musical "Pretty Guardian Sailor Moon ~Petite Etrangere~" will run at Tokyo AiiA Theater from 8/21-31 and at Osaka's Umeda Arts Theater Drama City from 9/5-7!