Enjoy this translation of this article in Comic Natalie about the Sera Myu (musical) Sailor Moon Petite Étrangère. Formatting by Galadan.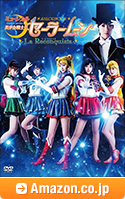 ミュージカルDVD
"Pretty Guardian Sailor Moon"
-La Reconquista-
On Sale July 9th, 2014
[DVD 2 Disc Set] 8424 Yen
EVIL LINE RECORDS
KIBM-446 ~ 7
124 minutes + 60 minutes bonus material
Full color 28 page booklet
(c) Takeuchi Naoko ・PNP/Kodansha・Nelke Planning・Dwango
---
BONUS DISC
Momoiro Clover Z "Moonlight Densetsu" performance, Momoiro Clover Z "Moonlight Legend" (curtain call edition), Momoiro Clover Z clips with romance advice from each musical performance edition.
Cast
Ookubo Satomi (Sailor Moon / Tsukino Usagi)
Matsuura Miyabi (Sailor Mercury / Mizuno Ami)
Nanaki Kanon (Sailor Mars / Hino Rei)
Takahashi Yuu (Sailor Jupiter / Kino Makoto)
Sakata Shiori (Sailor Venus / Aino Minako)
Yamato Yuuga (Tuxedo Mask / Chiba Mamoru)
Original Work: Takeuchi Naoko( Kodansha Press)
Director: Hiramitsu Takuya
Music: Sahashi Toshihiko
Produced By: Nelke Planning
Pretty Guardian Sailor Moon -La Reconquista-|EVIL LINE RECORDS
Musical
Pretty Guardian Sailor Moon
-Petite Étrangère-
(c)Takeuchi Naoko・PNP/Kodansha・Nelke Planning・Dwango
---
Tokyo Performances: August 21st, 2014 (Thursday) ~ August 31st, 2014 (Sunday) AiiA Theater Tokyo
Osaka Performances: September 5th, 2014 (Friday) ~ September 7th, 2014 (Sunday) Umeda Arts Theater Drama Stage
Cast
Ookubo Satomi (Sailor Moon / Tsukino Usagi)
Koyama Momoyo (Sailor Mercury / Mizuno Ami)
Nanaki Kanon (Sailor Mars / Hino Rei)
Takahashi Yuu (Sailor Jupiter / Kino Makoto)
Sakata Shiori (Sailor Venus / Aino Minako)
Yamato Yuuga (Tuxedo Mask / Chiba Mamoru)and others
Original Work: Takeuchi Naoko (Kodansha Press)
Director: Hiramitsu Takuya
Music: Sahashi Toshihiko
Musical: Pretty Guardian Sailor Moon 20th Anniversary Public Website
Musical "Pretty Guardian Sailor Moon" -Petite Étrangère-
Hiramitsu Takuya
A playright and director in the "Circle" theater group. He debuted with his work in "monster land" back in 1983. Including the musicals for "Sailor Moon", he has produced many musicals inspired by animated series. In addition, he's worked as the sound director for a variety of animated series. His main stage production works include "Hunter X Hunter", the rock musical "BLEACH", and Morning Musume's "Edo-tsumusume, Chushingura", as well as the theatrical edition of "Faust" starring Hashizume Isao. He's also been involved in the productions of "Richard III", "Macbeth", "Othello" (starring Kaneda Akio), among others.
---
Toshihiko Sahashi
In 1986 he graduated from the Tokyo National University of Fine Arts and Music Composition. In 1988, CBS hosted the "New Artist Audition 1988", where he won the Best Artist Award, as well as the Christine Reed award. He was in charge of music at Tokyo Disneyland's 5th anniversary (for the Castle shows and Starlight fantasy performances). In 1994 he was in charge of music for the 1994 Asian Games opening event. He composed for four consecutives years (1991 – 1994) the opening song for the NHK Red and White Singing Contest, and then composed the theme for "Gymnastics for All" in 1999. Later that same year he composed the theme for the Ministry of Posts and Telecommunications Postal Life Insurance Bureau commercials airing on NHK. He is currently involved in the production of many music videos, TV dramas, animation, and makes original music of his own in classical, rock, and other genres along with a wide array of other composers.
---
Fumio Osano
Editor to Naoko Takeuchi. Commonly known as Osabu. Joined Kodansha in 1986. Afterwards, he joined the Monthly Shounen Rival Editorial department through a good friend, and has also been working in the Weekly Shounen magazine editorial department. He is spearheading the Sailor Moon 20th Anniversary project. He has worked on "Goldfish Panic!", "Codename: Sailor V", "Sailor Moon", "Chameleon", "Girls Story", "Hell Girl", and other stories. He is currently in charge of "Monster Hunter Oraju".
The original series by Naoko Takeuchi, "Pretty Guardian Sailor Moon -La Reconquista-" has been released on DVD. For the first time in eight years, the Sera Myu are back with an all-female original cast. Playing the role of Tuxedo Mask is Yuuga Yamato of Takarazuka fame. Check out this all new version.
Joining us to talk about the history of the Sera Myu at Comic Natalie are Fumio Osano, the original editor who is managing the franchise; Toshihiko Sahashi, who is composing the music, and director of the screenplay Takuya Hiramitsu. Mr. Hiramitsu is also known for his involvement in the "Prince of Tennis" musicals. So, to hear all their thoughts on this latest release, we're doing a round-table discussion today with the staff. Today we'll get to hear the scoop on the newest musical to be released later this summer: "Sailor Moon -Petite Étrangère-".
Transcription Coverage: Yoshika Kishino Interview Shooting: Kosaka Shigeo
What I Thought Would Be a One Year Immersion in Sailor Moon Continued on for Four, Then Five Years (Hiramitsu)
──When you hear that the original Sailor Moon musicals had over 800 performances, it kind of makes your head spin I think. They began during the first year of the anime broadcast back in 1993.
Fumio Osano I remember that one day, I went into the office and my boss said to me, "We're going to make a page spread on the new musical in 'Nakayoshi' magazine", and we had only just decided that a new musical would be happening at all (laughs). A few years earlier we went to watch the "Saint Seiya" musical at the Aoyama Round Theater, and that's when we thought that we could make a revival for "Sailor Moon" just like it.
Toshihiko Sahashi I was involved in the "Saint Seiya" production. Maybe it's because I was too busy, but I don't really remember if there was any "Sailor Moon" on stage back then.
Takuya Hiramitsu I didn't go to see Anza Ooyama's performance as Sailor Moon until almost the end of the series, but the first musical I saw (Gaiden Dark Kingdom Fukkatsu Hen) really caught my attention. I became even more involved during the next performance. I remember looking at the audience, and seeing that the creator's vision had become a full-fledged musical show for everyone to enjoy. Akiko Kosaka's music was wonderful, especially during a live performance. I remember feeling the "fighting spirit" of the audience at all the shows.
──And back then you were doing three performances every year – spring, summer, and winter shows.
Hiramitsu After that, almost every time was like a totally new work. Though I'm not sure if it's good that the producer says that the story keeps changing. (laughs) After the first year of my Sailor Moon life, well, actually that turned into four or five years. At the time my daughter was in kindergarten, and she drew a picture of me with, "My dad is doing Sailor Moon" as the only description.
Sahashi Her sentence wasn't wrong though. (laughs)
Hiramitsu I remember that when I used to accompany her to her school stop on the Yamanote Train Line, she always had a copy of the Sailor Moon tankoubon manga stuffed in her bag (laughs). Back then, we had just started the "Eien Densetsu -Kaiteban-" performances and most of the original staff had graduated. But Anza stuck around and used to rehearse from morning until night. After my first involvement with the Sera Myu, I got really deeply involved. It's strange how it happened.
I Was Surprised by How Deeply into Women's Psyches It Had Gone (Sahashi)
Sahashi I didn't know that the musicals were airing in real time in conjunction with the animated series back then, but I was really surprised by how fanatical people were about it. I think it's as sparkly as "Pretty Cure", for sure, but I was surprised by how deeply into women's psyches "Sailor Moon" had gone.
Hiramitsu At its core, this was a story by women about relationships between men and women. The main theme, "La Soldier" had some pretty adult lyrics. At first the audience was made up mostly of mothers and their children. But eventually the children would lose interest, and then we'd notice more and more that the women were coming alone. I think the mothers got a little addicted, saying that "I've got to see how this ends, so the kids are with their dad today."
Sahashi Hahaha (laughs)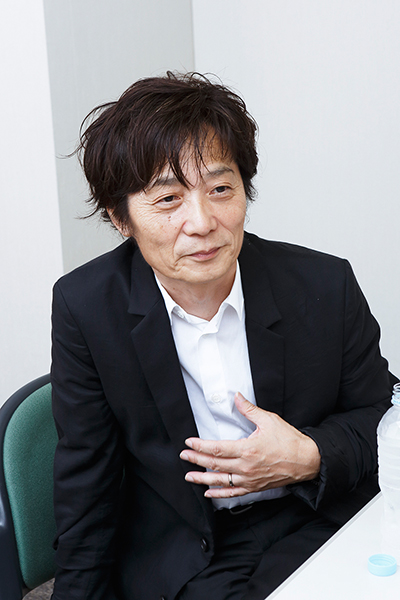 Hiramitsu After the anime gained even more popularity, our audience became even stranger – filled with nerdy boys from the fourth row to the first. It was a strange customer base. I think 70% of the people who are attending today's musicals were original fans who used to come to the shows with their moms. It's strange seeing kids come back now as adults, with children of their own. I really enjoy seeing that circle completed. And of course, I've been wanting to buy all of the merchandise too.
Sahashi Back when me and Mr. Hiramitsu were young, it was not acceptable for a man to like things that were "girly", but now things are flatter and it's acceptable for people like us to enjoy series like "Sailor Moon".
Hiramitsu The sailor guardians are beautiful but they can be weak, they can be mysterious, and they can be cry-babies. But every time after they're done crying, they stand back up to be protectors. I think those kind of values are still attractive to women today. I think really, that was the main power of Naoko Takeuchi's work in the first place.
──Last year's performance of "La Reconquista" followed the original storyline. But there were some unique elements introduced to the story, right?
Hiramitsu Like a warp to the Edo period. (laughs) It was hard, because many times during the script editing some of our staff had some incredible ideas that we had to turn down. We wanted to stay faithful, but also include some "new" material to keep the story fresh and modern.
Osano This year's -Petite Étrangère- is also going to follow the original work. But I've talked with Mrs. Takeuchi about it, and she said, "I want you to do the musicals with freedom", so we've done that in some places.
Hiramitsu Oh, is that so? (laughs). Back then, she never said anything like that to me.
Osano The new Sera Myu guardians aren't together yet, so I think it's a little bit different than the original.
Hiramitsu I've never given it much personal thought but, since the original series was 5 arcs long maybe we'll only have five musicals. But to fit all of the original content into one musical per arc is hard. But this establishes the "Sera Myu" for the next generation, it's something they can inherit.
I Write All My Songs in One Octave (Sahashi)
──For the new Sailor Moon musicals, the entire cast is all-female which is a big change. Mr. Sahashi, you did a lot of work with the Prince of Tennis musicals, and that was the opposite: the cast was all-male. What have you done this time around to produce music to be performed by an all-female cast?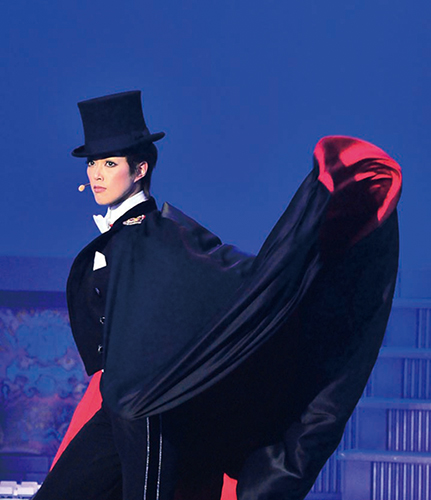 Sahashi I wonder why my job always has these extreme biases (laughs). I try to do the music for these performances like an opera I think. So I try to keep men who can sing a mezzo-soprano in that role, or women who can do tenor in that role – kind of like Carmen. When I write for soprano, mezzo-sopreano, or alto I try to plan to use about half of the needed vocal range. I did the same thing for the Prince of Tennis musicals, and tried to keep the vocal ranges at the low end of what could be considered feminine. I was really anxious about writing music for the Sera Myu because it's much trickier to make women sound masculine.
Hiramitsu But of course, Yuuga Yamato playing Tuxedo Mask has been really cool.
Sahashi Her part was definitely the most difficult. It was my first time ever writing for a woman who had experience singing like a man, a Takarazuka theater actress. It's hard to know the given range for any singer, but I was glad that she could hit the "male" singing range.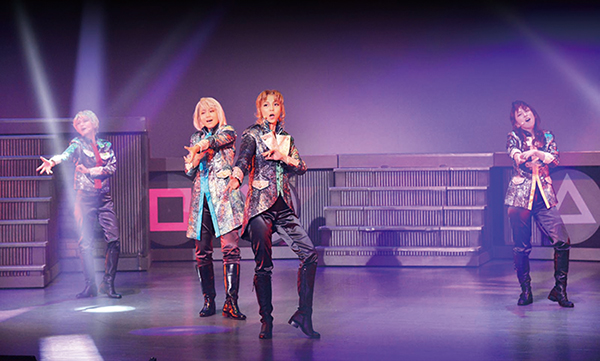 Hiramitsu That's right, and they're addictive to listen to. The woman playing the role of Zoicite of the Four Generals is Ayaka Ryo, also a veteran of Takarazuka.
Sahashi Yes. So because of that, I became a writer for Takarazuka actresses by default. In this case, we aren't trying to change the role of women from being women, but rather just their voice range in the music. I was shocked when I first heard a man sing in a different gender range. But now, I just try to write all my music to fit within the same octave – the range is much narrower, but it is easier for the actresses without formal Takarazuka training to sing within.
Hiramitsu In terms of lyrics, last year the assistant director Yoshiko Iseki wrote them with me, but this year a British woman named Lynne Hobday, so it should be a bit different this time. There's also a lot more English in the lyrics this time.
Sahashi The young cast has also had more time to train this time around, so they'll be able to better hit the right keys.
Hiramitsu That's right. But these girls (the cast playing the sailor guardians) are still pretty much kids, but they've come a long way since their last production last year through lots of practice. Especially in terms of dramatics.
Osano They were incredible. I think the last musical was really good. But if you compare the last one against this new one, I think you'll notice how much the cast has grown.
Sahashi It really is like a miracle.
Osano Last year Ms. Takeuchi was in attendance, and she raved about it. I kept having to stand up again and again to give more applause.
Hiramitsu That's right, this time you came for every day of performances, whereas last time around you rarely came. (laughs)
Osano *laughs*
Mercury Was the Only One I Was Allowed to Give My Opinion On (Osano)
──The entire cast had to audition in front of Ms. Takeuchi, but was singing ability a key determination in assigning the roles?
Hirsmitsu Well, I think appearance was most important. But it wasn't only that, of course.
Osano Together, Ms. Takeuchi and Mr. Hiramitsu watched, and they both came to decisions about who to cast together. I think they have a similar taste.
──But this year, there are two new characters you had to cast for Pluto and Chibiusa, and the actress portraying Sailor Mercury is new as well…
Osano Mercury was the only character I was allowed to give my opinion on.
Hiramitsu The actress portraying Mercury has always been Mr. Osano's choice.
Osano (The Mercury for this year) Ms. Momoyo Koyama comes from Hokkaido. She's someone who grew up watching "Sailor Moon" from a very young age. And she really respects this work. She came to audition with us after watching one of the performances last year.
Hiramitsu Last year's girl (Mercury was played by Ms. Matsuura) was reall elegant, and she was a fan of Sailor Moon too, so it makes you wonder if these girls are fated to play these roles someday. Anyway, this year we have a girl playing the role of Chibiusa, who used to watch Sailor Moon almost 20 years ago. Her name is Natsumi Takenaka, and there's a certain synergy we get from casting people who are fans.
Osano I know that Takahashi Yu, who portrays Jupiter, is also a fan from way back when she was a child too. And during her audition she really did look just like Makoto. It's almost as if Makoto Kino has been living within her for all this time.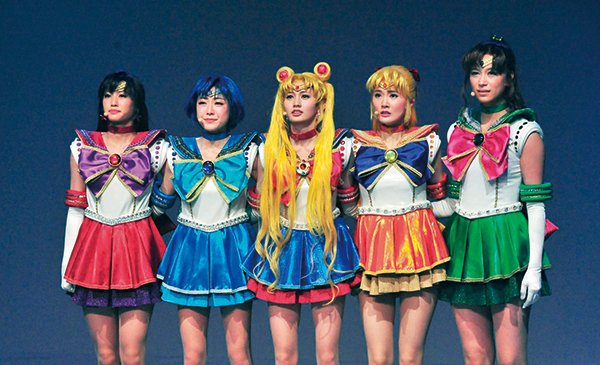 Hiramitsu I want to do as much as possible with these five girls. It's really important that they become a team.
──It would be great if everyone became friends. And spent time together in private.
Hiramitsu Yes, exactly. During practice, each of the girls refers to themselves as their character, "Mercury is here!", or "Hey Venus, you should be standing over there!", but then I'm left to be like, "Oh, here I am, your director!" (laughs) And the girls say, "Oh, Mr. Hiramitsu, if only you were a girl you could join in on practice with us!", they're scary.
Sahashi Hahaha. You hate being suspended from wires.
Hiramitsu I just don't want to be the only man in rehearsals, plus, I definitely don't want to be suspended from wires if the creator shows up. Anyway, the girls will go back into training this July, and although all of the characters are played by femaleS there are some male coaches. It is amusing to see the men flying through the air, or making girlie poses during the choreography scenes. The girls are really beautiful and graceful during their fight dance scenes. There might be some disadvantage to having an all-female cast, but I haven't found it yet and the performances so far have been spectacular.
Sahashi I think the visual effects captured the original well this time. Which is, of course, no small feat.
Hiramitsu No, it isn't.
Our goal is to go worldwide (Osano)
Sahashi When it comes down to it, I don't think there's much we can do this time in terms of originality. The whole world is waiting on this, so it can't turn out too badly.
──Are you considering expanding the Sera Myu for a worldwide audience?
Osano Yes, our goal is to go worldwide.
Sahashi I've been involved in a number of musicals, but there's a tendency not to export them.
Hiramitsu At least that's the case here in Japan.
Sahashi As a composer, that makes me so sad. When I think about Japan's musicals and animation, I think our musical chemistry is good. For example, most Disney films are animated musicals. Since we have such a strong tradition of anime and manga in Japan, I wanted to do things properly with "Saint Seiya" along those lines.
Hiramitsu I feel like our musicals are still in 2.5 dimensions, and there's lots of room for us to grow and develop as an art form.
Sahashi I always wondered if our "2.5 hour long musicals" were a mistake. Should our musicals really end after two and a half hours? (laughs)
Hiramitsu Hahaha (laughs)
Sahashi Just kidding. But I think it's such a waste that we don't allow our copyrights to be spread abroad to be played by foreigners. Although, it would be tough to keep the songs in Japanese, it would sound unnatural for other audiences. But of course, we want people everywhere to enjoy what we've created here in Japan.
Hiramitsu The quality of Japanese anime and manga has been recognized all over the world. But I think this is a trickier beast, because the reactions to our works in this genre are going to be so much more critical. There's so much to evaluate before releasing a product to be enjoyed abroad. But last year there were a ton of people in our audience who travelled from all over the world to come and see us. There were cosplayers. And during the Nico Nico live broadcasts of the musicals, there were so many comments being made in foreign languages. "Sailor Moon" is a series that is wildly popular in many places worldwide. So in terms of making a musical export from Japan, I think this series is a flagship and it could work.
I Have a Sense of Purpose (Hiramitsu)
Sahashi I think the future of Japanese musicals is at stake. Of course, we'd have to improve the quality of the music we export.
Hiramitsu I think there's a perception that all of our musicals "are just adaptations of anime", and that's an image I want to aggressively change. Although I had so much fun with the Sera Myu, I have a sense of purpose that I have to fix this perception, I have to do something about it this time around with my work.
Osano If we could be successful enough to do an overseas performance someday, I think it would be awesome to be able to get local actors. We'd like to have a ton of productions. And we'd like to be able to produce CDs too.
Sahashi That would be great. And if we could have large organization-wide recordings! And also live concerts.
Hiramitsu Live performances would be great. But first, we've got to get through "-Petite Étrangère-" this summer.
Osano After you've relived last summer's excitement by enjoying the DVD release, please visit us again at the theater this year. This next musical corresponds with the second arc of the series, "Sailor Moon R". It's a musical, but a lot goes on plot-wise, and it's similar almost to the anime series. In fact, we kept a lot of elements from one of the most popular anime episodes from this arc, but we freshened it up a bit. Our staff worked hard and we're all looking forward to sharing our work with you.