We're back and hitting the ground running! This week we've got a lot of new content for you to enjoy, such as…
The finale of PGSM! Please enjoy downloads of:
Act Zero direct download | torrent
Special Act direct download | torrent

Which officially wraps up our PGSM project! We'll be releasing omake videos from the DVD box set, as well as the Kirari * Super Live and Dance Special – but no real time line on those since they aren't high on our priority list.
A big thank you to everyone who has been watching PGSM along with us! It took us roughly a year to finish this series so this is a big achievement for us as a group! Since we have wrapped up the main leg of this project, I want to open this post to comments so everyone can weigh in on their thoughts, comments, and corrections they have found.
I am particularly interested in people's corrections for issues they've had with our past releases; over the next week or two we will be adding a giant bulk download and torrent of the entire series and I want to have corrected, updated episodes available in those packs that are absolutely perfect. I want to create an archival version of the series, if you will. So please let me know your thoughts, as they will be credited for directly improving our work!
Next up, I'd like to share a few more issues of Nakayoshi magazine from my growing collection:

August 1994 feat. chapter 32 of Sailor Moon & Magic Knights Rayearth
July 2001 feat. Musume Monogatari (about Morning Musume)
August 2001 feat. Musume Monogatari & Tokyo Mew Mew (chp. 12)

I'll be adding more and more issues of Nakayoshi over the coming months; thanks to my very own Daddy Longlegs I've been able to obtain quite a few back issues of the magazine featuring the works of Naoko Takeuchi. There are many significant dialogue and artwork differences between what appears in Nakayoshi and what is printed in the comic book formats.
Lastly, today I would like to share a project that I've had in development for roughly six months.
As it turns out, I am not the only crazy person in the world trying to track down issues of old Japanese magazines to find Naoko Takeuchi's original works.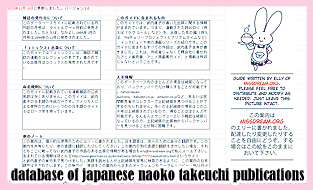 download | mirror
Unfortunately, it is a very difficult task, no matter what your native language is. Most of the information one would need to figure out which issues you need is almost impossible to find. Making matters worse is the fact that it is very difficult to find anyone selling issues of the magazine – often times the issues you need are more than a decade old. Most Japanese book stores throw out their unsold copies of Nakayoshi every January to make shelf space. So they're hard to come by and also super expensive.
My research on this topic isn't complete yet, but I'd say it's about 90% done. This database is bilingual so that you can copy and paste the correct Japanese titles into search engines when you try to buy something. I hope many of you out there will find it useful!
I'll also be adding in a guide for North American publications over the coming months; look out for it!
That's all for today. We'll see you next week with more Nakayoshi downloads and more! :)