After a week of birthday celebrations and back-to-school events, I am finally catching up on all the latest Sailor Moon news!
(Please wish James and MarioKnight a belated Happy Birthday!)
Sailor Moon 2013 T-Shirt Collection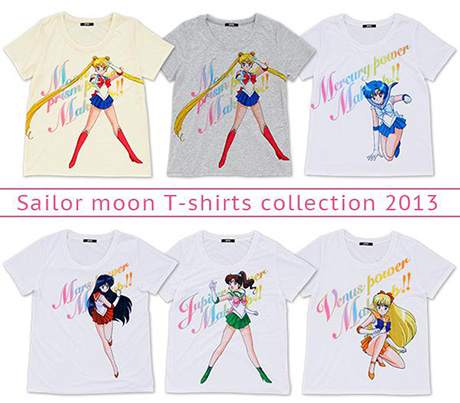 Sailor Moon 2013 Full Color Print T-Shirts


Available for pre-order via Premium Bandai beginning Tuesday, September 3rd, there are brand new full color Sailor Moon t-shirt designs. Available in women's size S, M, and L, you can select either heather grey, grey, or pastel yellow. Designs are available for each of the five main sailor soldiers. Scheduled for delivery in October, exact date unknown. These are selling for 4988 yen each, approximately $50 USD.
Sailor Moon Designer Bags
Now available for your daily use, "Pretty Soldier Sailor Moon" bags! Three styles are available: The minitote, Boston roll, and D-style backpack. There are three patterns available to choose from – a silhouette featuring Luna, the Sailor Moon polka dot pattern, and the colorful five warrior pattern. (9 different choices total)

Pre-orders will be available beginning Monday, September 9th via Premium Bandai, to be delivered some time in December.

The minitotes are selling for 2415 yen, approximately $26 USD. The Boston Roll style bags are 3990 yen, approximately $40 USD. Finally, the D-style backpacks are 4410 yen, approximately $45 USD.


Sailor Moon 2013 Designer Bags
Sailor Moon 2013 Mini Plush Collection and Mascot Keychains

To be released for sale early December, these cute Sailor Moon "Mini Plush" and "Keychain Mascot" collections are sure to be a big hit!

The "Mini Plush Collection" features a set of all five sailor soldiers, approximately 6 inches long by 3 inches wide, small enough to fit in the palm of your hand. These can be used to decorate your desk or room.

The "Keychain Mascots" feature Sailor Moon, Luna, Sailor Chibi Moon and Luna P ball. Luna and Luna P also feature a snap pouch, so you can connect them together. They are about 4 inches long, and are perfect to use as decorations for your bag.

Contact Sunrise Inc for more information:
Telephone: 03 -3844 -3781
Telephone Hours: 10:00 AM to 4:00 PM Monday ~ Friday
(Except Summer and Winter Holidays)
Sailor Moon 2013 Luna Tissue Box Case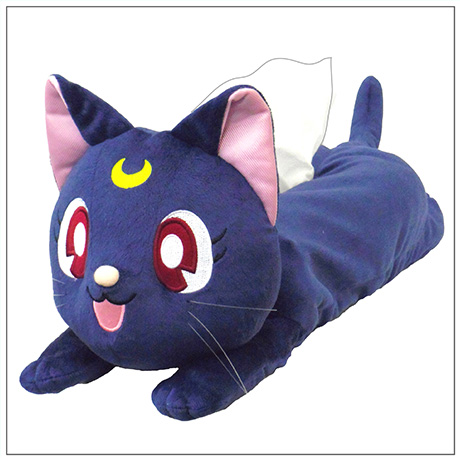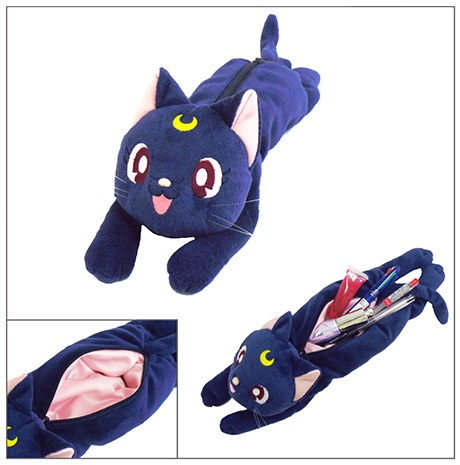 Modelled after Sailor Moon's sidekick black cat "Luna", available for pre-order are the Luna "Tissue Box Case" and "Pouch"! These are soft and cuddly and the perfect accent to any bedroom.

The tissue box is about 17 inches x 5 inches x 9 inches, so it will fit a standard size Japanese tissue box.

The Luna pouch is about 12 inches long and perfect for storing costmetic brushes and other small items.

Contact Sunrise Inc for more information:
Telephone: 03 -3844 -3781
Telephone Hours: 10:00 AM to 4:00 PM Monday ~ Friday
(Except Summer and Winter Holidays)
Sailor Moon Products Designed by Keisuka Kanda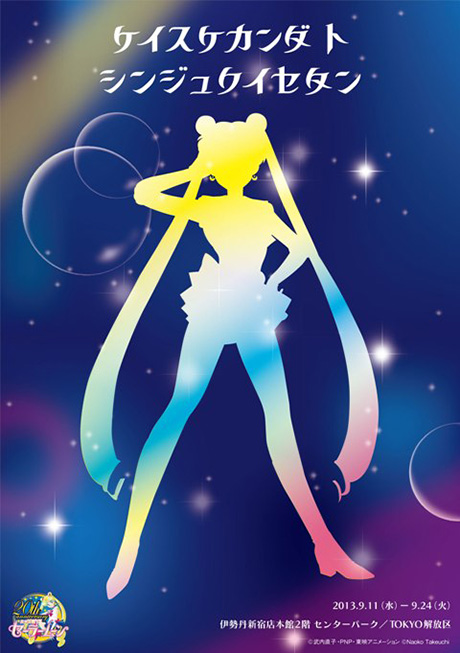 Sailor Moon will be available in Shinjuku Isetan Department Store beginning September 11th! (You can find it on the 2nd floor Center Park / Isetan Department Store flagship in Shinjuku, Tokyo – the event will last from September 11th ~ 24th)

At the venue, you'll be able to see three new items – the "paper apron" which comes in five different styles, the "socks" collection, and the Sailor Moon "pillow bags", designed in collaboration with Keisuke Kanda! (all sold by Bandai)

Keisuke Kanda is a fashion brand known for its rough hand stitiching and production of nostalgic, hand-made items, intended to bring up sentimental feelings in fans. Until now, he hasn't worked with Sailor Moon before!

Additionally, the brooch design rings will also be on display at the exhibit, along with S.H. Figurarts "Sailor Moon", "Sailor Mercury", along with some time key pendant necklaces, and the eyeliners to be released later this month.

Hope to see you at the Keisuke Kandai Isetan Department store event!
Kanzenban or "Complete" Edition of Sailor Moon Manga
Coming this fall, the Sailor Moon manga series will be re-released for a second time – this time in the "kanzenban" or "complete edition" format. There will be 12 volumes, each featuring new cover artwork by Naoko Takeuchi. The books will be printed in A5 format, which is larger than most average manga. The manga panels have been digitally remastered for a fresh, crisp look.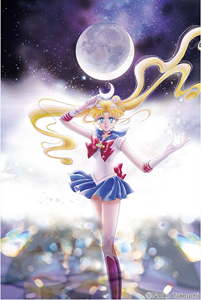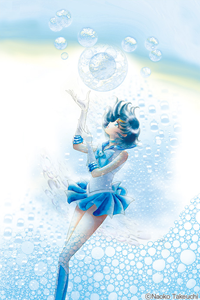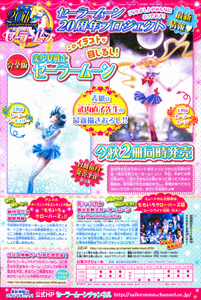 click images for larger size
No word yet on will these will be available for purchase – but check out the awesome cover art for volumes 1 and 2!
—
The new Sailor Moon musical "La Reconquista" premieres this weekend in Japan, so I'll be putting together another round up for La Reconquista specific merchandise next. Stay tuned!