Hello everyone! It's time for another Sailor Moon 2013 merchandise round up. My plan is to do one of these once a month. As always, information comes from Sailor Moon Channel and has been translated into English by yours truly. Let's get started!
Keisuke Kanda Sailor Moon Collection
Last time Sailor Moon Channel had only given us information about the Keisuke Kanda collection show at Iseten Department store, but now we have some pictures of the collection to share:

Retail price is 1,575yen each, roughly $16 USD. What these are intended for, exactly, is anybody's guess. They're made of thin paper and would probably shred if you tried to wear them around, so I'm assuming these are just a novelty item…? If you own this item, please feel free to comment with more details!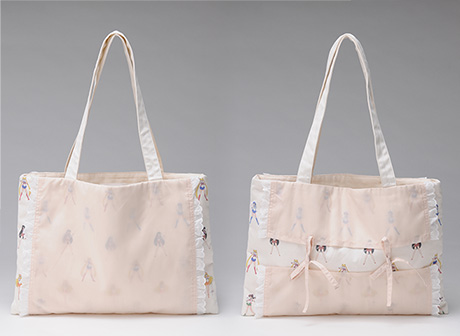 Retailing for 22,050 yen (roughly $225!), these designer Keisuke Kanda Sailor Moon Pillow Bags are limited edition. They are listed on the Isetan website as being made 100% of polyester, so this is kind of a rip off – even though the bag is cute.

Retailing for 4,700 yen (roughly $50 USD) these limited edition socks are no longer available, as the Keisuke Kanda Isetan event ended on September 24th. This item was only available for purchase in stores, so I hope you bought a pair!
Sailor Moon Character Nail Art
Of all the new Sailor Moon 2013 merchandise coming out, I have to admit I'm really excited about this item.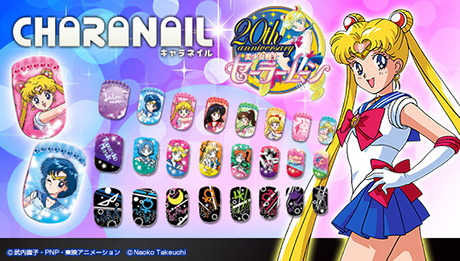 Retailing for 1,050yen individually (around ~$11 USD), you can buy these in sets of one packs, three packs, or a complete set of all 6 designs. There are six designs available – Love&Justice, Sailor Mode, Pretty Guardian, Midnight Town, Make Up, and Sailor Streamline. These are acryllic fake nails, and adhesives are not included. They are scheduled for delivery in mid December are are available for pre-order via Premium Bandai. They will also be on sale in retail stores such as Loft, Animate, Village Vangard, and others.
Sailor Moon Miracle Romance Eyeliners
Available for pre-order at Premium Bandai are the Sailor Moon Star Power Prism Eyeliner Limited Box Sets. There are 2 box sets available. The blue box includes the black, blue & white eyeliners, while the pink box includes the brown, red & white eyeliners. These sets are limited edition and only 2,000 sets are available for sale. Retail price is 3,465yen (roughly $35 USD) They are scheduled for arrival in December 2013.
Sailor Moon Miracle Romance Moon Stick Lip Stick
Available for pre-order from Premium Bandai, this is the 4th in the line of Creer Beaute's Miracle Romance cosmetics line in celebration of Sailor Moon's 20th anniversary. Retail price is 1780 yen (roughly $18 USD) and is a lip balm in a Sailor Moon Moon Stick shaped dispenser. The balm itself is a blended of jojoba oil, evening primrose oil, collagen and vitamin E, and has a peach fragrance. They are scheduled for delivery in February of 2014.
Naoko Takeuchi Interview Pt. 2 in ROLa Magazine
On sale October 1st, the November issue of ROLa magazine will contain the second part of the exclusive interview with the creator of Sailor Moon, Naoko Takeuchi. This issue retails for 680 yen (around $7) You can buy a copy at Amazon.co.jp or through a deputy service like Celga. I've already bought my copy and will have the translated interview online as soon as possible :)