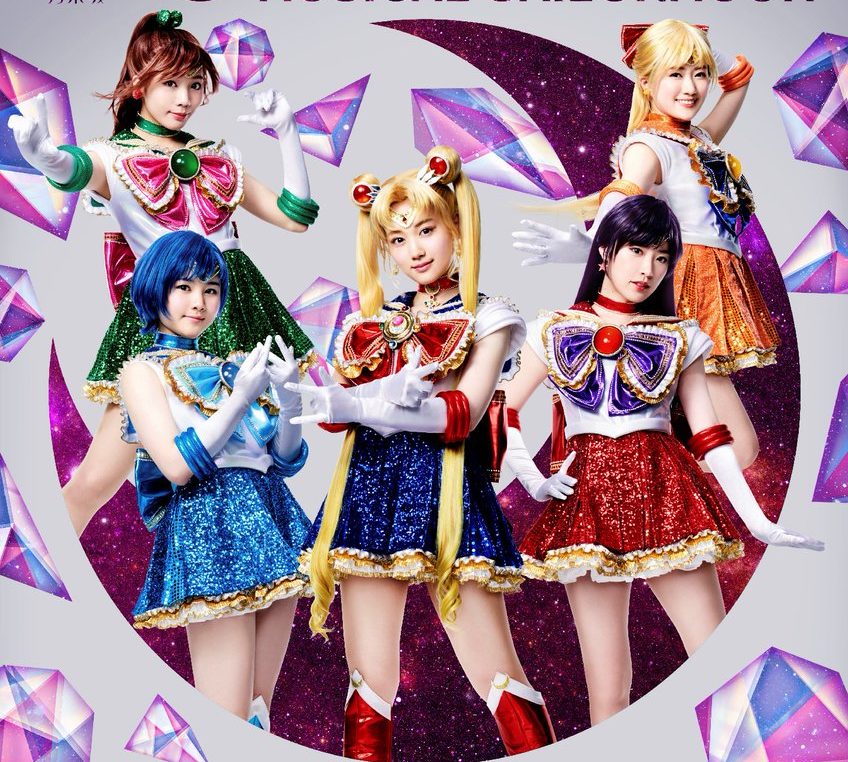 Hello Dreamers!
Welcome to another week of updates! This time we have some news about the Nogizaka 46 Sailor Moon Musical! And we also have some images of older Sailor Moon Crystal merchandise to share with you this week!
Note: If anyone has scans of the Sailor Moon Crystal Black Story Stationary that we do not have, we would love to add them so please email us!
This week's Downloads
Nogizaka46 Musical News
Details about the Nogizaka46 Sailor Moon Musical have been revealed! 10 members of Nogizaka46 were selected to make up a double cast of two inner soldier teams – Team Moon and Team Star. The story will be based on the Dark Kingdom arc of the manga.
Team Moon:
Sailor Moon/Usagi Tsukino – Mizuki Yamashita
Sailor Mercury/Ami Mizuno – Riria Itou
Sailor Mars/Rei Hino – Kazumi Takayama
Sailor Jupiter/Makoto Kino – Ami Noujou
Sailor Venus/Minako Aino – Hina Higuchi
Team Star:
Sailor Moon/Usagi Tsukino – Sayuri Inoue
Sailor Mercury/Ami Mizuno – Miria Watanabe
Sailor Mars/Rei Hino – Ranze Terada
Sailor Jupiter/Makoto Kino – Minami Umezawa
Sailor Venus/Minako Aino –  Kana Nakada
The remainder of the cast are not members of Nogizaka46:
Naru Osaka – Yuka Yamauchi
Gurio Umino – Marina Tanoue
Kunzite – Chihiro Ando
Zoisite – Sari Kojima
Nephrite – Shin
Jadeite – Rina Takeda
Queen Beryl – Nami Tamaki
Tuxedo Mask – Mikako Ishii
Ensemble – Mayuko Kawamoto, Mayu Kaburagi, Kumiko Saito, Ayuka Kurachi, Minami Tanabe (sp?), Mami Mitsuoka
There are three returning cast members from the revival musicals: Mikako Ishii, who previously played Pluto, Chihiro Ando, who previously played Tiger's Eye, and Kumiko Saito who was in the ensemble for La Reconquista and Petite Etrangere. The cast is once again all-female. Yes, that really is pop star Nami Tamaki as Queen Beryl! If you're an Utena fan, you might also recognize Yuka Yamauchi as Anthy from the recent musical.
The official homepage has also confirmed that the director will be playwright Worry Kino. Shunsuke Wada announced on twitter that he'll be in charge of the music.
The show will run at two different theaters in Tokyo, and there will be some differences in the performance between the two theaters.
[June Shows] 2018/6/8 ~ 6/24 – Tennouzu Ginga Gekijou (The Galaxy Theater)
[September Shows] 2018/9/21 ~ 9/30 – TBS Akasaka ACT Theater
Closing
Starting to get more news as far as the musical things go! Anyone excited to see Mikako return? What about her as Tuxedo Mask now? We hope you enjoyed this weeks post! And don't forget..
We have patreon also! Our monthly hosting and cloudflare bill is $315! On top of that, gathering up Sailor Moon publications and other merch to digitize for the site can quickly get pricey. Enter Patreon – a monthly tipping and rewards site that allows you to support your favorite content creators and get perks as a thank you. Miss Dream's content will always be free to access, but we are incredibly grateful for any support our visitors can provide to help ease the hosting bill and make it easier for us to keep acquiring materials to share. Even just $1 helps a ton!
Check out our Patreon page to learn more about the rewards we're offering and how to make a pledge!
Let the professional translators at Fandom Services translate your, or your honey's favorite doujinshi or your best bud's super rare special episode! Check out Fandom Services on Facebook!
See you all next time!