"I'm honored to star in such a famous piece.
I'll make it a wonderful show that remains in your hearts!"
Mr. Chiba
2013.10.01
Original Source
I'm still full of love for Mamo-chan.
It's Satoon.(´・_・`)
Lately I'm always thinkng "I wonder if Mamo-chan will drop by?"
I made a surprise appearance at the Sailor Moon cosmetics event!
The Sailor Moon, Mercury, and Mars eyeliners are cute! I use them all the time. (●´Д`●)
I feel like I've gotten more feminine. (`・ω・´)
And then after that!
I went to visit Shinjuku's Karaoke no Tetsujin!
It's amazing! It's all Seramyu. o(`ω´ )o
The Sailor Moon drinks were sweet and delicious! ♪(´ε` )
Apparently the collaboration will last until 10/13, so by all means please go have fun and get some coasters. ( ´ ▽ ` )ノ
I signed a board, but I accidentally wrote "Change into the moon."(´・ω・`)
If you turned into the moon your face would be all round!
(TN: Satomi used the wrong kanji. 代わって means "in the name of" and 変わって means "change into." Both are pronounced the same.)
I also received tons of letters & presents!
I read all of them!!
To be honest, I felt uneasy receiving so much praise from everyone.
But your letters were full of words that gave me confidence and the phrase "Satomi Moon" which made me super happy.(´;ω;`)
I was the representative who received the letters that were sent to the whole cast. (´∀`)
I also got lots of cute presents!
Thank you so much! I'll treasure them.(●´Д`●)
Lately I've been seeing everyone at least once a week.( ´ ▽ ` )ノ
Later!(・∀・)ノシ
Seramyu
2013.09.26
Original Source
The Sailor Moon Musical had a short run, but we've successfully finished all 16 performances.
I'm truly happy that I was able to become Sailor Moon.
I'm full of gratitude to my beloved cast, staff, and the fans who cheer us on!
Thank you very much!
There's a lot more on my mind, but I'm bad at writing so I can't put my thoughts together.
(´・ω・`)
I love you all so much!!!
If we all have the chance to get together again, by all means please come to see us. (´∀`)
Later! (・∀・)ノシ
It started!
2013.09.17
Original Source
Good afternoon!
This is Ookubo Satomi. ( *`ω´)
The musical has started!!
I get nervous every time. ((((;゜Д゜)))))))
My friends and teacher from school came to see it and they praised it highly. (=´∀`)人(´∀`=)
But I could still be better!
I'll aim even higher and work hard!!
If you've already come or are planning to go!
I'd appreciate it if you told me what you thought! (`・ω・´)
I'll be waiting at the theater. (´∀`)
I think information about where to send letters or gifts is on the Seramyu homepage, so please check there!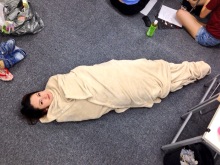 The picture is from when everyone turned me into a worm in the dressing room.(^ν^)
Later! (・∀・)ノシ
September(°_°)
2013.09.01
Original Source
This is Ookubo Satomi. (`・ω・´)
It's Septemberrrrrrrr!!!!
I'm nervous! OMG ((((;゜Д゜)))))))
Thank you for everything at AniSummer!
I was worried because the weather was bad,
but lots of people came and I was happy that they were all super supportive. (´;ω;`)
I was really nervous before we came out,
but seeing the faces of the people who always cheer us on made me feel better!
Also, the signs that said "Congrats on the revival of Seramyu!" were amazing♪( ´▽`)That made me happy!
I found a picture of me when I was little! So cute♪(v^_^)v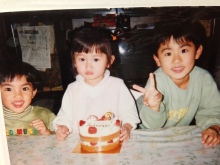 Oh, did you check out BLT? (OvO)
Later!(・∀・)ノシ
Cast Relay Blog Vol. 1 ☆ It's Usagi.
2013.08.20
Original Source
General ticket sales have started and currently we're in the middle of intense rehearsals!!
There's dancing and singing and acting… please look forward to it, everyone☆
Until the shows start we're going to do a cast blog relay.
First up is of course our leader, Ookubo Satomi☆☆☆
☆☆☆☆☆☆☆☆☆☆☆☆☆☆☆☆☆☆☆☆☆☆☆☆☆☆☆☆☆☆☆☆☆
Nice to meet you! I'm Ookubo Satomi, playing Sailor Moon(=´∀`)人(´∀`=)
I'm hungry.
I'm working hard at rehearsals every day. ♪( ´▽`)
It's tons of fun!
The other day Miiyan (Ami) said to me "Minako and Usagi look alike." ///
I blushed. (●´Д`●)
I watched the live Nico broadcast after it aired, and there were so many kind comments that I felt like crying. (´;ω;`)
Thank you so much. (´;ω;`)
Be careful of heat stroke!
Later! (・∀・)ノシ
Yaay!
2013.08.11
Original Source
Yo! It's Saaton! ( *`ω´)
Did you watch the live Nico broadcast?
It was a last minute thing so maybe some of you missed it? (´・ω・`)
I watched it after it aired!
I got nervous and I wasn't able to give my comments properly and I was worried about how I looked and whether or not everyone would accept me, but I received a lot of praise so I was super happy about that. (´;ω;`) *sob*
Now I'll be able to work hard at rehearsals♪( ´▽`)
The event for my mook is coming up soon!
I'm looking forward to it. (●´Д`●)
Later! (・∀・)ノシ