Hi everybody – welcome back to Miss Dream Monday!
We've got a lot in store for you all today, as we finally kick-off our accelerated posting schedule for Pretty Guardian Sailor Moon. Here are the next three episodes, ready for your enjoyment:
Act 35: direct download | torrent
Act 36: direct download | torrent
Act 37: direct download | torrent
Next up, please enjoy some new additions to our raw downloads section:
1. Nakayoshi Anime Album Pretty Soldier Sailor Moon Classic Volume 1
2. Pretty Guardian Sailor Moon Memorial Art Book
Last but certainly not least, also enjoy our long-awaited translation of the book Prism Time volume 1, by Sailor Moon series creator Naoko Takeuchi. Prism Time is a collection of short stories that were made long before Sailor Moon ever became a serialization, and was released in tankoubon format after Sailor Moon's manga had ended. It is definitely worth checking out if you're a hard core fan of shoujo manga!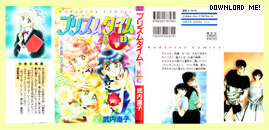 One last note before we go. If you aren't already a reader, consider checking out Lunacy Magazine! We contribute a regular feature in the magazine about the Japanese language found in Sailor Moon, but that's only a small part of what's in the e-zine. Lunacy Magazine is a great resource for Sailor Moon fans everywhere and is chocked full of awesome articles, highlights, trivia, games, and much more! Definitely give it a read if you can.
That's it for today! Check back next week for more PGSM, the second half of the Prism Time series, and Nakayoshi magazine scans. :) See you then Moonies!
(PS: If you haven't heard already, Kodansha Comics USA will be releasing a Sailor Moon art book some time next year. More details will be posted as we receive them.)