Happy Miss Dream Monday everyone.
First, I'd like to thank everyone who has donated to our site. We are just under $30 away from fulfilling our goal so we can catch up on bills. Thank you to everyone who has donated so far, or helped spread the word about our situation – I really appreciate your support!
Also, please join me in wishing staff member CyborgArmGun a happy birthday! She has worked tireless on getting lots of our scans offerings online for y'all to enjoy! <3 Thanks for all your hard work and dedication, lady! Now, on to the goodies:
Sailor Moon Perfect Edition "Kanzenban" HQ Scans
Please enjoy 600 DPI downloads of the Sailor Moon Perfect Edition (kanzenban) books, volumes 3 and 4! These were released in Japan back in December of 2013. I highly recommend buying copies, as the digital remastering of the artwork is really worth the purchase.
Where to buy:
Volume 3 – CD Japan, JList
Volume 4 – CD Japan, JList
Sailor Moon in Nakayoshi Magazine 1992
Also available for download today are the May – September 1992 issues of Nakayoshi magazine. Every single one of these magazines features a chapter of Sailor Moon. This is an incredibly rare collection of magazines! All are scanned in at 600 DPI. If you are only interested in reading Sailor Moon from these issues, I've made individual chapter scans from these magazines for you to check out. That being said, Nakayoshi magazine features an awful lot of excellent girls comics series, and the 1992 lots feature popular series like Miracle Girls! and Goldfish Warning. These downloads are an excellent resource for all fans of 1990s era shoujo manga. :)
Sera Myu Pamphlet HQ Scans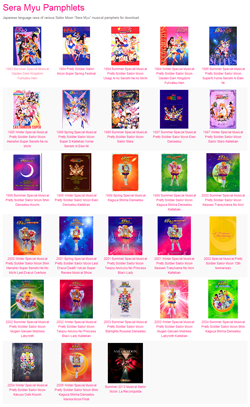 Sera Myu Pamphlet Scans
Thanks to the generosity of eternalruth of junketsu, I am pleased to announce that we have scans for 27 Sera Myu pamphlets! Ruth allowed me to borrow her collection for digitization so that this resource would be available for everyone on the internet. :) Flyers and other advertisements are coming soon, in the meantime, please enjoy this huge collection!
That's it for this week. If you enjoyed this week's offerings, please consider donating to Miss Dream so we can continue to offer more downloads in the future. As always, we are still available to take on paid projects for any kind of anime/manga/doujinshi translation, so please consider hiring us!