Hello again, Dreamers!
This week's update features more doujin uploads from our generous donor, dawnlight6, including one scanlation of an adult doujin! Also, the airing of Sailor Moon Crystal, Act 37!
This week's doujin uploads
Sailor Moon Crystal Season III – Act 37 is up!
The twelfth episode of season 3 is up, the manga equivalent of Act 37. Check out the episode on the official sites!
Click on whichever one, to watch the episode from that site!
Next week is the SEASON FINALE! Hope to hear some news about Season IV, the Dream Arc, very soon!
Sailor Moon Crystal Season III Single 2 Available to Download!
We got the latest single, which is the 2nd of 3, for Season III, and features the opening sung by Galaxia voice actress, Mitsuko Horie, and ending theme sung by Chibiusa voice actress, Misato Fukuen. Go and download the single here or at our CD releases page.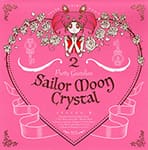 MP3 (320kpbs) | FLAC | Scans
My Thoughts on Kuorki Hikari's Withdrawl From Sera Myu
Last week, we are stunned to learn that Yume Takeuchi is taking over Kuroki's role, as Ami/Sailor Mercury, in the upcoming Sera Myu, Amour Eternal. Days later, we found out why Kuroki left, and why the visuals were delayed, as Kuroki told us via twitter, which you can read it's translation here, thanks to ainomessage.
It's due to some "extremist" Sailor Moon fans who question her, thinking she's not fit for the role, or that she was a gravure idol (models who pose for magazines ads, etc, to attract male audiences). Kuroki's decision even left her cast mates saddened, and was really willing to work with her, but the trolls of the internet got to Kuroki, emotionally…before she can even perform, months later.
Kuroki couldn't stand up and ignore the haters by doing her best on-stage, and let that make them think twice before judging her by her past and what they think, just like if she was Ami Mizuno. Ami was bullied for being too smart, before Usagi befriended her, and helped her become more active, ignoring the haters and be who she wants to be. Kuroki could've channeled Ami's character in her, cause she had friends in the Sera Myu cast, who could've helped her keep her posture and move on. But, it was too much for Kuroki to handle and had to drop out, before the visuals were released. We wish Kuroki all the best on her future endeavors, and hope she recovers from this emotional event to become a strong actress.
In the end, it's a real shame that another Mercury actress left, making Yume Takeuchi the fourth actress to be assigned to the role (third, on-stage), as if there's a curse with that Sera Myu role. Let's hope this curse gets broken, and never happen again.
Closing
We hope you enjoyed these uploads and news bits, and hope you'll stay tuned for next week's update.♥ Our garage sale is still going on! Go check out what's new in our store by clicking here, and buy some today! By the way, we do ask that you all donate, not only to keep the server running, but to maybe give Miss Dream a good year! Also, we have expanded our hire us page to a whole separate entity, Fandom Services, so be sure to check that out as well! And, bookmark sailormoonevents.org, for updates on the upcoming Masquerade Ball in 2017! See you next time!