Performance Download | Pre-order DVD | Soundtrack | Pamphlet | Promotional Materials | Promotional Videos | Promotional Posters | Cast Messages | Cast Listing
Musical Autumn 2016: Sailor Moon Amour Eternal
Sailor Moon: Amour Eternal is based on the Dream Arc of the Sailor Moon series.
The title of the latest in the series of Sailor Moon musicals was announced on the Official Sailor Moon 20th Anniversary page, on June 14, 2016,
along with the dates of of performances:
[Tokyo] October 15th to 23rd, in the AiiA 2.5 Theater Tokyo
[Fukuoka] October 29th and 30th, in the Canal City Theater
[Osaka] November 4th to 6th, in the Sankei Hall Breeze
Bookmark this page to keep up to date with all the latest news and information about Sailor Moon: Amour Eternal!
Story
Usagi and friends are now high school students and trying to live a new life in pursuit of their dreams. However, on the day of the solar eclipse, the "Dead Moon Circus Troupe" appears in search of Pegasus, who hides in the dreams of humans and the hand of evil stretches towards the girls. On top of everything, Mamoru has fallen victim to the curse of the black rose…Priest Helios, of Earth's holy protective land "Illusion," warns Usagi and her friends of a danger to life on Earth and tells them to search for the key to saving everything, the "Golden Crystal." To protect their beloved planet…the Sailor Guardians combine their powers once again!!
Fun facts
"Amour Eternal" is French for "Eternal Love."
Sailor Moon Amour Eternal Fansub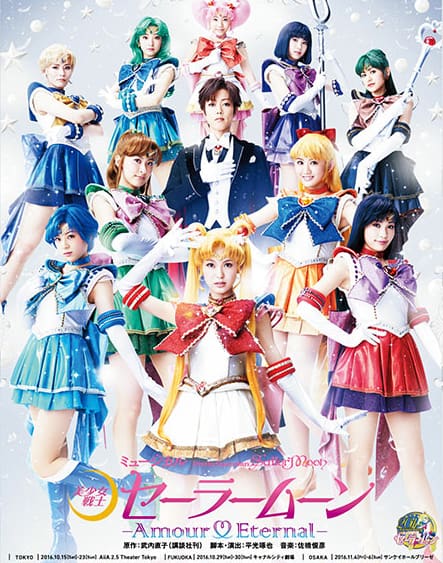 torrent (preferred) | direct download

Sailor Moon: Amour Eternal – Live Performance Songs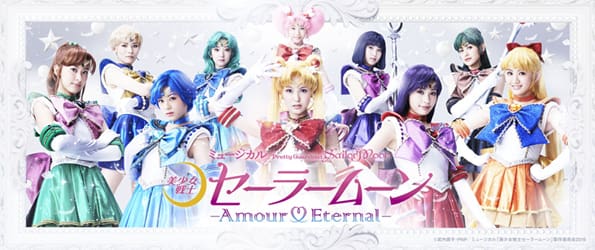 Direct Download | Torrent

Sailor Moon: Amour Eternal – Pamphlet Translation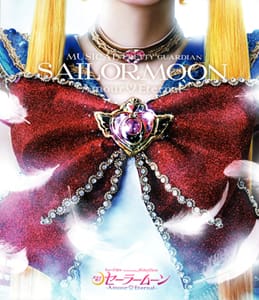 Pamphlet Translation Page
Sailor Moon: Amour Eternal Promotional Materials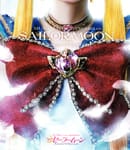 Amour Eternal Official Pamphlet
Sailor Moon: Amour Eternal Promotional Videos
Coming Soon!
Sailor Moon: Amour Eternal Cast Bio/Messages
Sailor Moon/Usagi Tsukino – Hotaru Nomoto
BIO: Born in Tokyo on 2/20. Member of Sunaoka Agency. Starred in the musicals, "Momo" and "Post" as well as the plays "Anne," "Colorful," and more. She has appeared in a variety of television shows, movies, and plays, such as TV Tokyo's "Hakken Taiken Daisuki! Jimajirou," the films "Auritemo Aruitemo" (directed by Hirokaze Koreeda) and "Kokuhaku" (directed by Tetsuya Nakashima), and more.
Nice to meet you. I'm Hotaru Nomoto and I'll be playing Sailor Moon/Usagi Tsukino. I've been
nervous for days leading up to the announcement and it already feels like my heart is going tojump out of my chest. I never even dreamed that I'd be playing Sailor Moon. Until I can wear the Guardian costume and appear in front of you all, I won't feel like it's real. I'll do my best so that we can live up to the history of Sera Myu and to bring you a wonderful performance with the other Guardians. I'm going to work my hardest to bring you a charming and lovable Usagi, so please give me your support!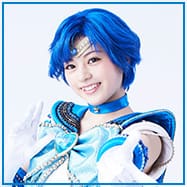 Sailor Mercury/Ami Mizuno – Yume Takeuchi
BIO: Born in Hokkaido on 10/15. Member of Theater Academy Agency. After appearing in many live shows, she moved to Tokyo for high school and began working in entertainment. She became a semifinalist in the "No. 1 Diva Contest" and received high praise from the judges. She appeared as the sister of the protagonist in the play "Card Fight!! Vanguard." She has also appeared in ads for Otsuka Pharmaceuticals' "Pocari Sweat x Koshien" campaign.
Sailor Mars/Rei Hino – Karen Kobayashi
BIO: Born in Tokyo on 3/23. Member of Avilla Agency. Debuted in 2011. Her special skill is ballet, which she began at age 3. She was the image girl for "END"LESS" in 2014 and 2015. Recently she appeared in commercials for "Yume Down," and "Pocari Sweat," as well as TV Asahi's "Kamen Rider Ghost." The "Pretty Guardian Sailor Moon" musical will be her first stage play and first musical.
I'm Karen Kobayashi, playing Sailor Mars/Rei Hino. Sera Myu is stage show loved by many people. The same is true of the 5 actresses who played the 5 Sailor Guardians up until now. I actually went to the show last year and really felt the strength of the bonds between those 5 girls, and really wanted to act in a play as moving as this! When it was decided that I would be in the next show, I was so happy I broke down in tears. I'm going to give my all to become more and more like Rei Hino, to fall in love with my companions, and to bring you a play overflowing with love and friendship! Please give me your support!
Sailor Jupiter/Makoto Kino – Kaede
BIO: Born in Aichi on 2/23. Member of Sense Up Agency. The "Pretty Guardian Sailor Moon" musical will be her first stage play. She is currently appearing in various media as a model. Please keep an eye on her fresh charm.
Nice to meet you. I'm Kaede and I will be playing the role of Sailor Jupiter/Makoto Kino. When I was little, my brother and I played Sailor Moon games together. When I set out to be an actress, my ultimate goal was to be in Sera Myu. I'm very happy to be able to take part in this show. The manga, the anime, the musicals… there are so many fans that treasure Sailor Moon, so above all I want to treasure this role! Using the experiences I've gained from my work as a model, I'll do my best to show you a feminine, cool Jupiter!
Sailor Venus/Minako Aino – Rimo Hasegawa
BIO: Born in Shizuoka on 11/24. Member of Ken-On Agency. She has been appearing in magazines and events since 2013. Some of her main roles have been in TV Tokyo's Special Drama "Kurozaki-kun no Iinari ni Nante Naranai" (2015), TV Asahi's "Boku to Watashi no Hirapaa Nee-san" (2016), the film "Kurozaki-kun no Iinari ni Nante Naranai" (2016) and commercials for "Oki Electric."
I'm Rimo Hasegawa and I'm playing Sailor Venus/Minako Aino. It is a great privilege to star in a series that has been running since before I was born. There are manga fans, anime fans, and Sera Myu fans – many people who love Sailor Moon, and to jump into a series with such a long history makes me excited and nervous. I'll do my absolute best to portray Minako, who is both a normal girl who wants to be an idol and the brave leader of the 5 Guardians. The musicals exist because you all keep coming to the theater, and I want to create a dream show along with all of the Sailor Moon fans around the world. Please come to see us at the theater.
Source: Sailor Moon 20th Anniversary SeraMyu Cast Messages
Translated by Katie!
Sailor Moon: Un Nouveau Voyage Cast Listing
Confirmed cast:

Confirmed staff:

Hotaru Nomoto as Sailor Moon
Yume Takeuchi as Sailor Mercury
Karen Kobayashi as Sailor Mars
Kaede as Sailor Jupiter
Rimo Hasegawa as Sailor Venus
Yuuga Yamato as Tuxedo Mask

Airi Kanda as Sailor Chibi Moon


Mikako Ishii as Sailor Pluto

Shuu Shiotsuki as Sailor Uranus

Sayaka Fujioka as Sailor Neptune

Karin Takahashi as Hotaru Tomoe/Sailor Saturn

Hikaru Hirayama as Helios

Sayu Ootsuki as Nehelenia

Kanami Sakai as Zirconia

Andou Chihiro as Tiger's Eye

Riona Tatemichi as Hawk's Eye

Yumi as Fish Eye


Dead Moon Circus Trope:

Yoshika Kobayashi
Risa Kawamura
Yoshimi Hidano
Ayano Nagasawa
Chiemi Doi
Ayumi Sagisaka

Creator – Naoko Takeuchi (Kodansha Press)
Screen play and  Production – ???
Music -???
Lyrics – ???
Choreography – ???
Artwork – ???
Acoustics – ???
Lighting – ???
Filming – ???
Costumes – ???
Hair and Makeup – ???
Swordfighting Instructor – ???
Vocal Coach – ???
Music Coach – ???
Piano Instructor – ???
Director's Assistant – ???
Director's Aid – ???
Stage Director: ???
Promotional Artwork – ???
Promotional Photography – ???