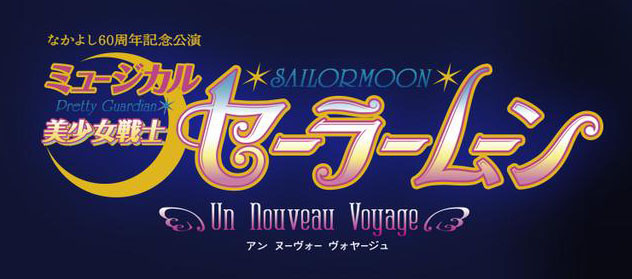 Final Performance Download | Pre-order DVD | Soundtrack | Pamphlet | Promotional Materials | Promotional Videos | Promotional Posters | Cast Messages | Cast Listing
Release credits
Special thanks to the following people:
* James and Katie – Translation of the musical
* @ares00 – Provided the raw recording
* MarioKnight – Trimmed video and ripped songs
* sassypants678 – Pamphlet translation
* Hexefrau – Pamphlet graphical work
Musical Summer 2015: Sailor Moon Un Nouveau Voyage
Sailor Moon: Un Nouveau Voyage is set to be the final performances for the casted 5 Sailor Senshi, as this follows the storyline of the Infinity Arc. It is also the Nakayoshi 60th Anniversary concert.
The title of the latest in the series of Sailor Moon musicals was announced on the Official Sailor Moon 20th Anniversary page, on May 1st, 2015,
along with the dates of of performances:
September 18-27, at the Tokyo AiiA 2.5 Theater
October 2-4, at the Senkei Hall Breeze Theater in Osaka
Bookmark this page to keep up to date with all the latest news and information about Sailor Moon: Un Nouveau Voyage!
Fun facts
"Un Nouveau Voyage" is French for "A New Voyage."
This will be the first Sailor Moon musical ever to utilize the Subtitle Glasses. They will be subtitled in English, French, and Chinese, for the international audience. (SOURCE) It was demonstrated how it was done. Naomi Toda of Public Relations and Tokyo 2.5 Dimensional Musical Association Secretariat, said it was influnced by Sailor Moon's musicals and it's international audience, that the glasses were introduced into the Naruto musical. (click here for video).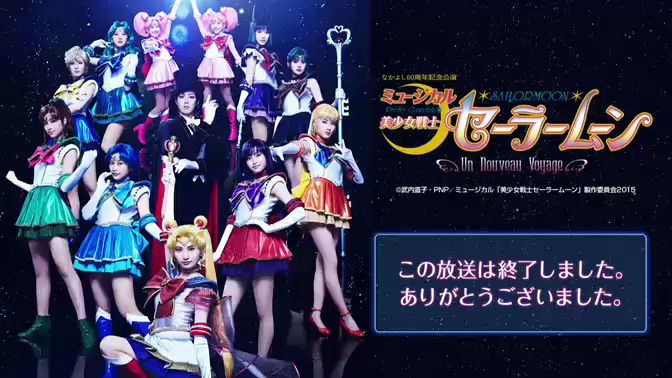 Removed, see here for details
Pre-order Sailor Moon: Un Nouveau Voyage on DVD!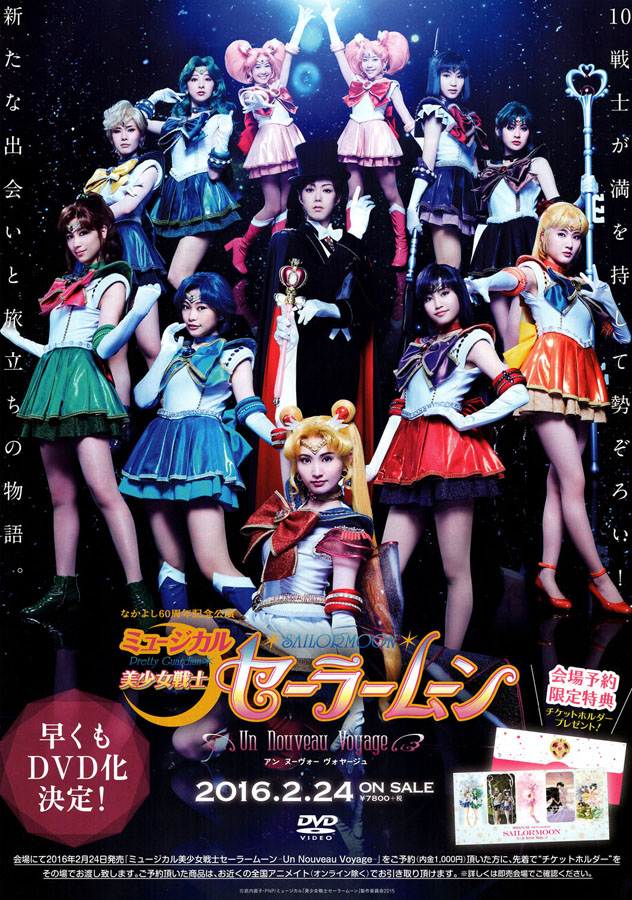 Pre-order from CDJapan!
A DVD for Sailor Moon: Un Nouvau Voyage will be released for purchase on February 24th, 2016!
Thanks to Mizuno Caitlin from Wild Mushroomland, for the scan!
Sailor Moon: Un Nouveau Voyage – Live Performance Songs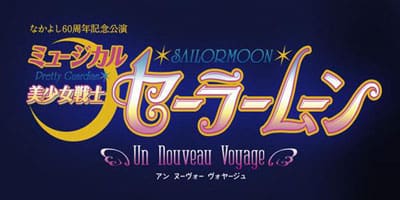 Removed, see here for details
Sailor Moon: Un Nouveau Voyage Pamphlet Translation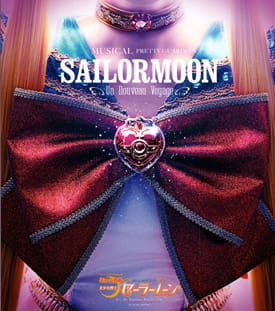 read or download here
Sailor Moon: Un Nouveau Voyage Promotional Material
Sailor Moon: Un Nouveau Voyage Promotional Videos
Sailor Moon: Un Nouveau Voyage Promotional Posters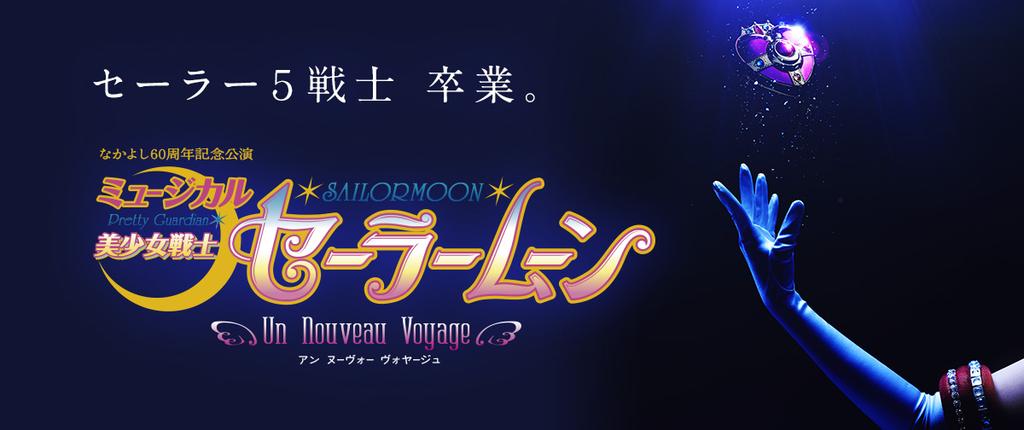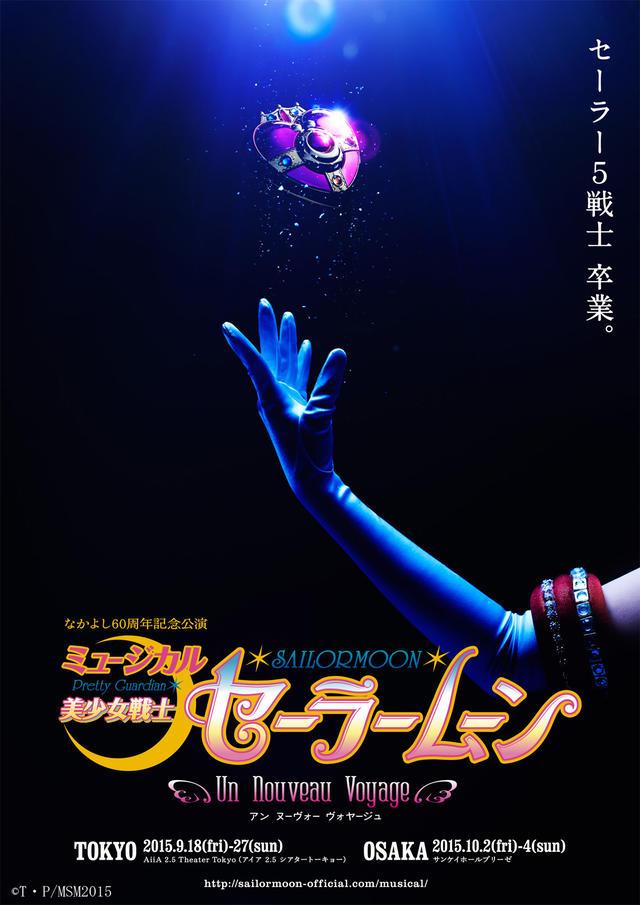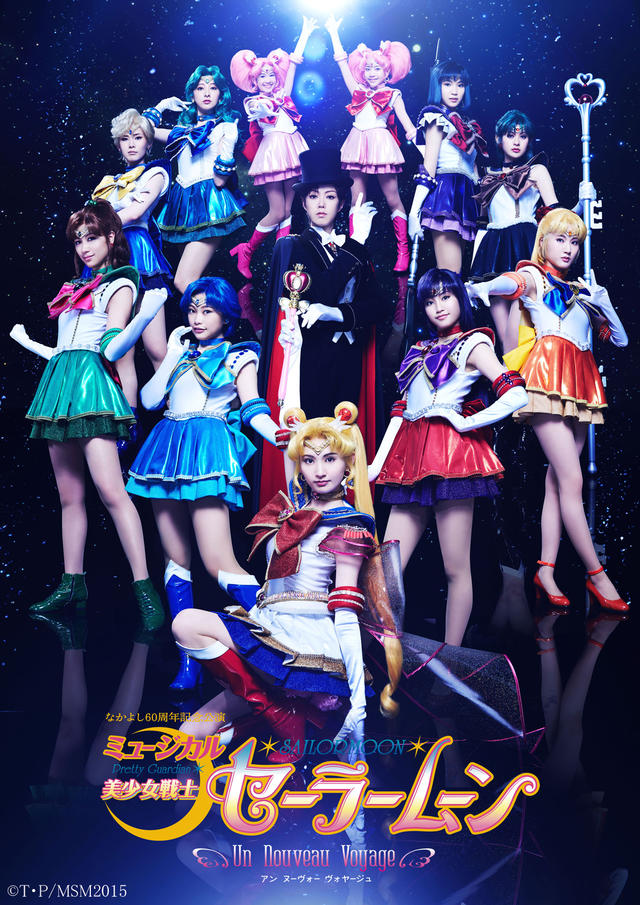 Sailor Moon: Un Nouveau Voyage Promotional Flyer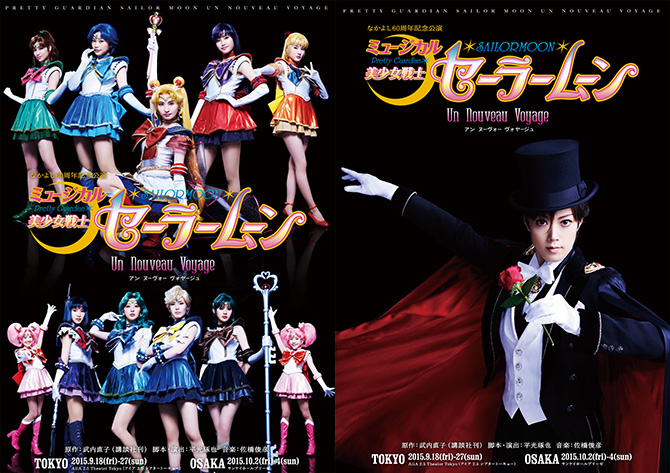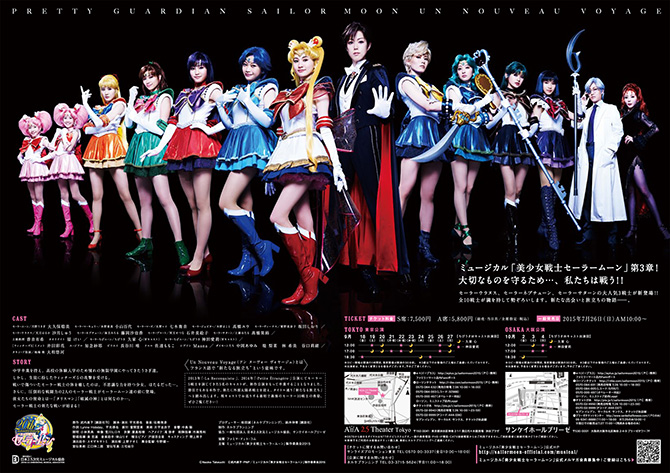 Sailor Moon: Un Nouveau Voyage Cast Messages
At the end of this new musical the 5 Sailor Guardians will graduate. Here are messages from the 5 cast members.
We've added news about the 2015 new musical! Please check here for details.
http://sailormoon-official.com/musical/
We also have an important announcement for everyone who has supported the "Pretty Guardian Sailor Moon" musicals.
At the end of the new musical the cast who have played the 5 Sailor Senshi in 2013′s "La Reconquista" and 2014′s "Petite Étrangère" will graduate.
The subtitle of the new show is "Un Nouveau Voyage."
The phrase is French for "A New Journey."
This show will mark "A New Journey" for these 5 girls. Here are messages from the 5 Sailor Guardians to all of you.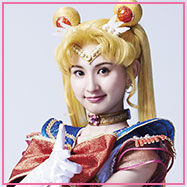 Sailor Moon/Usagi Tsukino – Satomi Ookubo
To be honest, I'm really sad to be graduating from Sera Myu!!
I mean Sera Myu was a starting point for me, it's where I met irreplaceable friends, and it's a precious place where I've grown along with Usagi Tsukino.
La Reconquista was my first musical so I was really insecure, but I was really happy to be encouraged by the support of my friends and the fans who said things like "You're perfect! I'm glad Saaton was chosen!"
That's why I hope the fans will closely watch us Sailor Guardians protect our loved ones and precious friends until the very end.
I'm going to fight with all my strength as Usagi Tsukino and Sailor Moon.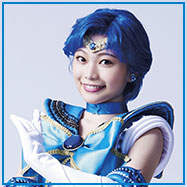 Sailor Mercury/Ami Mizuno – Momoyo Koyama
Being a part of the "Pretty Guardian Sailor Moon" musicals was my dream.
I've yearned to be a part of this dream world since I was little and that still hasn't changed.
I'm truly happy to continue in my role as Sailor Mercury/Ami Mizuno in my dream musical.
This time the musical's subtitle is "Un Nouveau Voyage" which means "A New Journey," and as the title suggests the five of us will graduate at the end of this show.
We're going to use the power of love that you all have given us to power up, so please come to the theater to see the 5 Guardians set off on a new journey!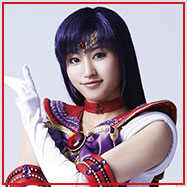 Sailor Mars/Rei Hino – Kanon Nanaki
I'm truly happy from the bottom of my heart to star in the "Pretty Guardian Sailor Moon" musical commemorating the 60th anniversary of Nakayoshi, "Un nouveau voyage."
I met Rei-chan Mars and the other 5 girls in the spring when I was 16 years old… Saaton Moon, Momoyo Mercury, Yuu-chan Jupiter, Shii-chan Venus. And Miiyan Mercury.
Because communication is extremely important to me I always get very nervous and insecure when I first meet someone, but for some reason I was easily able to open my heart to them. I think it was because they accepted me as I am and because I was accepted by the bonds of friendship that are so strong in Sailor Moon.
I will always treasure my precious friendship with everyone.
My sister who is 4 years older loved Sailor Moon, so when I was little we enjoyed watching the anime together. I loved Mako-chan.
So when I was called to audition for Sera Myu I thought "Yay!" and got super excited even though I hadn't even passed yet. When I heard that I got the role, I remember I actually drew a blank. Being able to achieve my goal of being in a musical so soon after I had entered the entertainment world made me so happy I couldn't express it.
This fall I'm now 18 years old and I will finally have to say goodbye to Rei-chan Mars after 3 musicals, but I'm grateful from the bottom of my heart to be able to do my best again this year. I'm truly happy for the musicals I've appeared in and to be able to work hard alongside the other Guardians in this new show. I'm so proud of this work.
The new musical is called "A New Journey." I'm going to give my all to this show for the sake of the Sailor Moon fans all over the world and so that the 5 of us can graduate with our heads held high as we move forward.
Along with all of the others who love Sailor Moon, I will always continue to love Sailor Moon and Rei-chan Mars.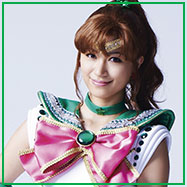 Sailor Jupiter/Makoto Kino – Yuu Takahashi
Sera Myu was the place I met treasured friends and my beloved fans.
As I've played Mako-chan, Sailor Jupiter, I've truly gained many treasures and a lot of strength.
On one hand I'm happy that the 5 Guardians can graduate together, but at the same time I'm of course sad. We're going to use our strong bonds to work extra hard at rehearsals so that we can give you an unforgettable performance!
Please come to see us.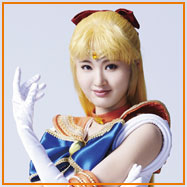 Sailor Venus/Minako Aino – Shiori Sakata
I've loved and admired Sailor Moon since I was little.
I never even dreamed that I would stand on stage as Sailor Venus in a Sailor Moon musical.
I discovered new things about myself through Sera Myu, made wonderful friendships that could never be changed, and received a great deal of love from the Sailor Moon fans.
As a Sailor Moon fan myself, every time I'm on stage I feel like I'm in a dream and my feet aren't touching the ground.
I really wanted to continue as Minako forever, so I'm really sad about graduating, but I have my unchanging "Guardian Friends," so I want to bring you all an amazing performance with my wonderful friends!★
I've always felt like being Sailor Venus was a dream, so I'm going to remind myself that it isn't a dream, it's reality, and I have the other Sailor Guardians with me!! I'm going to give you all a performance you can't take your eyes off!
Please watch our culminating performance! I'm looking forward to seeing you at the theater!★
Source: Sailor Moon 20th Anniversary SeraMyu Cast Messages
Translated by Katie!
Sailor Moon: Un Nouveau Voyage Cast Listing
Confirmed cast:

Confirmed staff:

Creator – Naoko Takeuchi (Kodansha Press)
Screen play and  Production – Takuya Hiramitsu
Music – Sahashi Toshihiko
Lyrics – Lynne Hobday, Hirakou Takuya
Choreography – Taima Satomi
Artwork – Katahira Keiko
Acoustics – Nakajima Satoshi
Lighting – Kobayashi Hidenori
Filming – Arakawa Hiroki
Costumes – Okushima Hiroki
Hair and Makeup – Kuai Yoshitaka
Swordfighting Instructor – Ichinose Hidekazu
Vocal Coach – Izumi Tadamichi
Music Coach – Kouyama Rio
Piano Instructor – Tobe Yuria
Director's Assistant – Sugisaki Yukiru
Director's Aid – Ueno Naomi
Stage Director: Konno Kenichi
Promotional Artwork – Eguchi Shinjirou
Promotional Photography – Miyake Yuusuke