Hey everybody. Anna here. I am looking for image processors. If you have the time, and commitment, please contact me for more details on how to get involved.
Ciao Magazine
"Ciao" is a girl's comics magazine monthly publication. This issue contains Nao Yazawa's Wedding Peach, Among others.
Sailor Fan Book – Princesses
This is a English translation of a "Das Offiziele Sailor Fanbuch" – officially licensed German Sailor Moon fan books that were released between 1999 and 2000 by Diamond Publishing. Originally, the Germans had translated the first five Japanese official Pretty Soldiers Official Fan Books into their own language, however, due to the immense popularity of those items in Germany, Diamond Publishing eventually expanded on the line, creating 22 books in all. 17 of the 22 books are completely original works which you can't find anywhere else.
These have been translated by our German staff member, P-chan and graphically designed by staff member Christina. Please note while reading these translations, that these books are essentially the German equivalent of our Tokyopop and other releases. This means that the books may not necessarily reflect accurate information in comparison to the show. This is most notable when these books print out "Rea" instead of "Rei" and so on. These are direct translations of the books, and to maintain the integrity of these translations, nothing canon has been "fixed" as a result.
Nakayoshi August 2014 Issue
Many of Naoko Takeuchi's works, including Sailor Moon, were serialized by chapter in this monthly publication before being published by Kodansha in book format. These back issues of Nakayoshi are extremely difficult to find due to their age, the fact that the publisher does not allow for direct back issue re-ordering, and their rarity – many collectors in Japan prize these issues, especially when they feature famous artists such as Ms. Takeuchi.
Sailor Moon Petite Etrangere Pamphlet
Dan here, adding a last minute addition to this update. While I will eventually have a page set up similar to last year, I wanted to share this download as soon as possible. sassypants678 has finished translating the Sailor Moon Petite Etrangere Pamphlet that was scanned and posted last week. One of our editors, serenity842003, finished editing this and preparing this earlier today. Therefore today we are happy to bring to you the PDF download of the Sailor Moon Petite Etrangere pamphlet! =D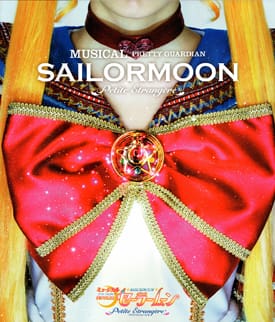 PDF Download
Please be sure to check out our Sailor Moon Petite Etrangere anything and everything page for everything else in the meantime. Don't forget, this weekend, Niconico will do it's web-stream for Japan in which we will be subtitling as swiftly as we can. Thus year, the initial showing will be Saturday night / Sunday morning, a day later than last year. We can't make any solid estimates, but we will work hard to get it done as soon as we can. Be sure to enjoy a new episode of Sailor Moon Crystal. You should also check out all of the goodies shown earlier today for Japan's Sailor Moon Crystal BluRay/DVD Limited Edition Volume 1 Set!
If you enjoyed this update, please consider donating to Miss Dream so we can continue to offer more downloads in the future. We love being able to provide everything we do for everyone, and can always use the help to keep the project going! Our garage sale has been updated, where you can own the magazines used to make these scans at cheap prices! As always, we are still available to take on paid projects for any kind of anime/manga/doujinshi translation, so please consider hiring us! We hope that you enjoyed the Caio Magazine, the Sailor Princess Fanbuch, and Nakayoshi August 2014! :D We will see you next week!